Antonio Anduaga Passed the Colorado Bar
Former Senior Law Clerk Antonio Anduaga recently passed the Colorado Bar Exam, and now officially joins the team at the Harris Law Firm as an attorney. Prior to taking the exam, he commented on his time working for the firm, saying that:
"I am truly delighted to be part of a great team at The Harris Family Law Firm," said Antonio. "What makes this experience even more exciting is that I am able to help the Firm to connect with the Hispanic community in Denver, as part of expanding our goals to better serve every person who needs our services. We are thrilled to be creating new relationships with organizations like the Global Chamber, the Hispanic Chamber of Commerce, and the Hispanic Bar Association. When one has the opportunity to add the construction of bridges among human beings from different backgrounds and cultures, to one's legal work, then you know you are doing something truly meaningful in your career. I thank The Harris Law Firm for this opportunity."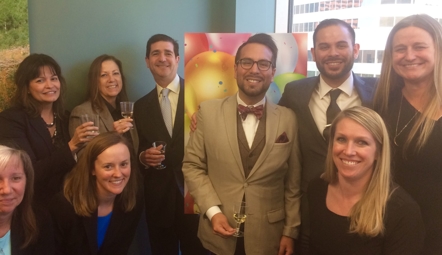 The Harris Law Firm celebrates with Antonio after he passed the Colorado Bar.
Congratulations to Antonio for passing the Colorado Bar! We are excited to see the great work you will perform for families and individuals in need now that you have passed your exam. If you are interested in discussing your situation with Antonio, or any of our other fantastic family law attorneys at the Harris Law Firm, give us a call at (303) 622-5502 today, or send us your information through our online form to ask us a free legal question.
Related Posts: