Andrew Stein
Attorney and Counselor at Law
Andrew Stein is an attorney at The Harris Law Firm who focuses his practice on divorce and family law.
Prior to joining The Harris Law Firm, Andrew worked as a bankruptcy attorney representing individuals and businesses in high-stake financial proceedings. He leverages this experience to help clients address the many financial issues in divorce, including asset and debt division, high-net-worth, and post-decree modifications. Andrew prioritizes personal attention and works to ensure clients understand their rights and options so they can make informed decisions.
Andrew earned his undergraduate degree from George Washington University, and his law degree from the University of Denver Sturm College of Law. He was admitted to the Colorado Bar in October 2005.
During law school, Andrew volunteered at Project Safeguard providing guidance to victims of domestic violence. Andrew also interned with the Denver Juvenile Division of the public defender's office, where he met with children who would later appear in court to explain the process and gather evidence to aid in their defense or to reduce or eliminate their bail.
Andrew continues to volunteer at the Denver Rescue Mission serving dinner to those in need, and credits his early pro bono work to shaping his caring and compassionate approach.
In addition to volunteering his time to the local community, Andrew has been a featured speaker for local realtors seeking education on how to best assist homeowners who are going through the dissolution process, or a post-decree process.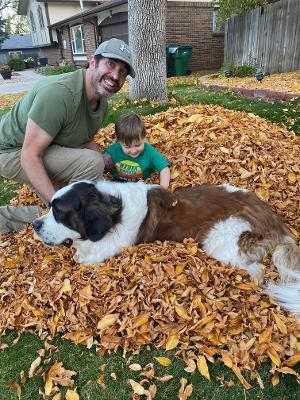 Andrew enjoying the Fall leaves with his son and dog!
University of Denver Sturm College of Law, J.D.
George Washington University, B.A.