Carrie Chaille Eckstein
Partner
Few things distinguish young attorneys like the "Rising Star" Super Lawyer award. A Super Lawyer Rising Star fulfills all the rigorous standards of a Super Lawyer, but they must also be either younger than 40 years old or have been practicing for less than 10 years. For perspective, less than 2.5% of the lawyers in a state meet this criteria. Attorney Carrie Chaille Eckstein has achieved this feat several years in a row: 2011 - 2019.
Ms. Eckstein has also been recognized for her volunteer work as a lawyer, winning the Pro Bono Legal Service Award. She believes it is part of her duty as an attorney to provide access to legal services to those who cannot afford it, a belief shared and lived out by many of the attorneys at The Harris Law Firm. Her passion for helping others first expressed itself during law school, when she interned for an international adoption agency. She also gained valuable experience as an intern for a Circuit Court Judge and the Arizona State Senate.
When clients work with Attorney Eckstein, they can trust in her strength as an advocate and as a family law attorney. She aggressively and passionately represents her clients against situations that would threaten their well-being as individuals and as a family unit. Attorney Eckstein handles many high net worth clients in litigation and in marital agreements. She has reviewed many partnership agreements, closely held family businesses, and complex trusts. Regardless of your situation, rest assured that Attorney Carrie Eckstein can handle your case with high-level skill and deep compassion.
In addition, her current practice at our firm includes working as a mediator between cooperative clients, resolving child custody disputes, and handling cases with large assets. Ms. Eckstein's experience as a Guardian Ad Litem and Child & Family Investigator for the Colorado courts has given her extensive experience into court processes as well as into the needs of children and their families. She is particularly driven to create safe, effective solutions for families in dangerous situations. Her work as a Parenting Coordinator/Decision-Maker has given her sharp insight into family situations, allowing her to bring clarity into emotionally confusing circumstances while protecting families.
Her values center on understanding her client's needs and meeting those needs through her work and legal experience. Between her excellent practice, her experience, and her passion for helping families in times of need, Attorney Eckstein is a wonderful example of what The Harris Law Firm is about.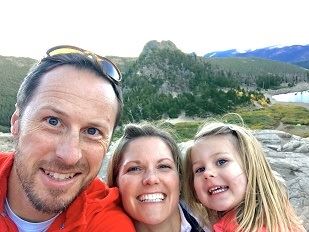 Carrie hiking at Saint Mary's glacier with her husband and daughter.
Summary
Practice focus family law since 2006.
Legal Intern for Colorado's Chinese Children Adoption International and Colorado CASA.
Judicial Clerk for Indiana Circuit Court Judge for two years.
Graduated from University of Arizona in 3 ½ years and worked as Legislative Intern for the Arizona State Senate prior to law school.
Reported Cases
Trial level attorney for: In re B.C.B. 15 C.O.A. 42 (affirmed).
Best Lawyers in America 2020
Super Lawyer's Rising Star 2011 - 2019 (9 years)
Certified Mediator since 2009
Child & Family Investigator (CFI) since 2008
Certificate of Appreciation by the People's Law Project and the Colorado National Lawyers Guild 2009
AVVO Rating 10/10
Colorado Bar Admission October 2006
Colorado Bar Association;
Colorado District Court Bar Association;
Denver Bar Association--Family Law Division (Young Lawyer Liaison);
Jefferson County Bar Association
Metro Volunteer Lawyers
Family Tree
University of Dayton School of Law

Student Bar Association, Class Executive Counsel.
Student Pro Bono Legal Award.
Student Volunteer Lawyers Project.

University of Arizona

Dean's List
Chi Omega sorority,
Phi Alpha Delta-prelaw fraternity,
Sophomore and Junior Honorary Clubs,
Greek Honorary
Publications
Presentations
Organized, promoted, and presented a three-part educational series and CLE with two estate planning firms on: "The Union of Colorado Family Law and Estate Planning" on May 12, 19, and 26th, 2016
Alternative Dispute Resolution Annual Seminar: Family Law Mediations: Knowing Your Limits - 2017
The Union of Colorado Family Law and Estate Planning: Prenuptial Agreements, Trusts, Dissolution of Marriage, and Re-planning - 2017
Family Law Evidence Practicum – Faculty - 2018
Family Law Section Update - Family Law Mediations: Best Practices - 2018
Pro bono family law cases from Metro Volunteer Lawyers, 2009 to Present