Dan Droege is an experienced Family Law Attorney and Certified Mediator at The Harris Law Firm. In practice since 1987, he has extensive experience in divorce and family law matters, including complex and contested cases involving custody and placement of children, child support, alimony, grandparent/third person rights, non-traditional family cases, and alternative dispute resolution (mediation).
Born in South Carolina, Dan obtained his bachelor's degree in Philosophy and Political Science from the University of Wisconsin, and his Juris Doctor from Hamline University School of Law in Minneapolis. He attended Pepperdine School of Law's Straus Institute for Dispute Resolution, the nation's leading ADR program, where he earned a Certificate in Dispute Resolution.
Dan is straight forward with his clients and values his role as an advocate whose duty is to listen and offer advice based on his decades of experience and training. Rather than creating false expectations or simply agreeing with clients' positions, he establishes relationships based on facts, candor, and transparency, and takes a pragmatic path to helping clients identify their available solutions.
An accomplished negotiator, Dan encourages clients to reach resolutions without court intervention. He recognizes that clients lose significant control in allowing a third party, be it a Judge or Arbiter, to decide what are often life-changing issues and provides the tools for clients to take control and make their own decisions. However, he knows that court or third-party intervention may be necessary in some cases and has the experience to help clients wherever their cases lead.
Dan's 35+ years in practice and extensive training in ADR allow him to help clients navigate the many emotional and financial challenges inherent to family law, including both divorce and post-divorce matters. He has helped hundreds of clients over the course of his career and is widely trusted by colleagues to handle some of the most challenging cases. Dan is licensed to practice in Colorado and Wisconsin.
Outside of the office, Dan is a self-described football and music fanatic. He enjoys traveling, camping, and fostering puppies as a volunteer with the Longmont Humane Society.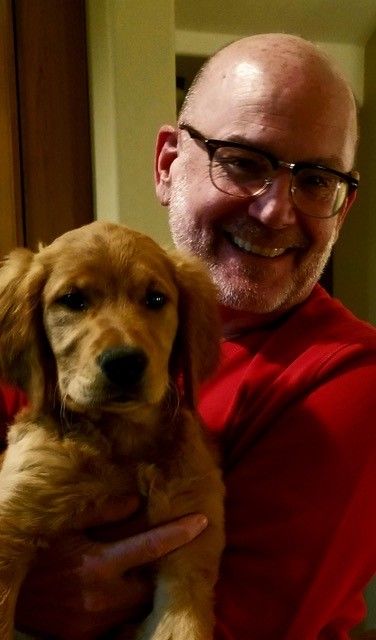 Dan fosters puppies for Longmont Humane Society.
Merit Scholarship Recipient, 1985.
American Jurisprudence Award Recipient, 1985
Ranked as one of the top lawyers in Dane County published by Madison Magazine in January 2001 and 2003
Legal Action of Wisconsin, Board of Directors, 1988 - 1991
Youth Services of Southern Wisconsin, Inc., Board of Directors, 2004-2006
Collaborative Family Law Council of Wisconsin, Inc., 1998 - 2014
Court Appointed Special Advocates, Board of Directors, 2011 – 2014
University of Wisconsin, B.A. in Philosophy and Political Science
Hamline University, J.D.
Pepperdine University School of Law, Straus Institute for Dispute Resolution, Divorce and Family Mediation Certification