Elizabeth Velez Garrett
Attorney and Counselor at Law
Elizabeth Velez Garrett is an Attorney and Counselor at Law at The Harris Law Firm. She represents clients in a range of divorce and family law cases, with a special focus on matters involving custody and child welfare.
Elizabeth is a passionate advocate whose interest in fighting for children has been shaped by more than 15 years practicing as a Guardian ad Litem in Dependency and Neglect cases and her own experience growing up in the foster care system. She takes a child-focused approach in divorce and custody cases, helping parents maintain healthy family systems while guiding them in the development of Parenting Plans that prioritize the best interests of children.
In her practice, Elizabeth places an emphasis on providing the support clients need to understand the law and their options in plain language. She strives to create a comfortable space that encourages open discussion free from judgment and empowers her clients to make informed decisions about the direction of their cases and the issues that matter most to them.
In addition to her many years representing children in Colorado courts, Elizabeth is also actively involved in the community. She regularly volunteers with her daughter at the Happy Cats Haven Cat Shelter in Manitou Springs and the Fostering Hope Foundation, and is a big supporter of Court Care for the Pikes Peak Region, a program which provides free, drop-in, licensed childcare to families that have court-related business in the Fourth Judicial District Court (El Paso and Teller Counties) and Colorado Springs Municipal Court.
When she's not advocating for her clients, Elizabeth enjoys family game nights at home and donning creative costumes with her family on Halloween and the annual Renaissance Festival in Larkspur, CO.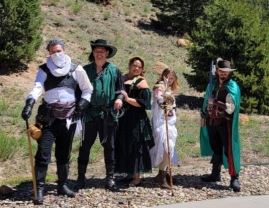 Child Welfare Law Specialist (CWLS) since 2013
National Association of Counsel for Children (NACC)
J.D., Loyola University Chicago School of Law, 2005

Certificate in Child and Family Law Civitas degree program
Civitas Child and Family Law Clinic, Senior Law Student
Hartigan Public Interest Fellowship Recipient
Public Interest Law Society member
Colorado Legal Services, Family and Child Unit, Denver, CO Legal Intern

B.A., Major: Speech Communication, Emphasis in Education, 1993
New CASA Volunteer Panel Member Presentations
New Foster Parent Trainings
Annual 8th Grade Girls Law Day
United States Peace Corps, Ecuador, South America Volunteer Consultant, August 1995 to November 1997.
4th Judicial District Best Practices Adolescent Services Subcommittee, 2009 to 2015.
4th Judicial District Family Treatment Drug Court Team Member, 1st Accreditation 2018
4th Judicial District Best Practices Minority Overrepresentation subcommittee, January 2022 to August 2022.