Jordan Mader
Attorney and Counselor at Law
Jordan Mader is an attorney at The Harris Law Firm who focuses his practice on a variety of family law matters.
A native of Wyoming, Jordan grew up in the Steamboat Springs area of Colorado, returning to Laramie to attend law school at the University of Wyoming. While in law school, Jordan was a Legal Extern for The Federal Mine Safety & Health Review Commission for Administrative Law Judge Richard Manning. After working in Wyoming and New Mexico, he returned to Colorado in 2019 to be closer to family and enjoy the Colorado lifestyle.
Prior to joining The Harris Law Firm, Jordan represented individual's in Southwest Wyoming in Divorce, Custody, Medicaid, Landlord/tenant, and Guardianship cases. Jordan has extensive experience in commercial litigation and real estate law. Jordan previously worked for a large commercial litigation firm in New Mexico, representing commercial lenders in consumer loan disputes. Jordan has also represented Colorado clients dealing with legal issues such as foreclosure, breach of contract, real estate contract, and construction defect.
Jordan leverages this experience to help clients address the many financial issues in divorce, including asset and debt division, high-net-worth, and post-decree modifications. Jordan prioritizes personal attention and works to ensure clients understand their rights and options to make informed decisions. Jordan's goal is to educate his clients in order to bring understanding and clarity to any complex financial or parenting situation.
Clients who work with Jordan have understanding and peace of mind from working with an attorney who combines skill, experience, and insight with genuine compassion and integrity. Jordan allows families the ability to achieve the best results, no matter how complex the circumstances.
Jordan has volunteered at numerous pro bono events in Colorado, New Mexico and Wyoming since becoming licensed in each respective state. Jordan credits his early pro bono work to shaping his caring and compassionate approach to Family Law.
Jordan brings the necessary passion to his work every day, especially preparing for litigation while helping his clients through their transitions to achieve resolution in their lives. He enjoys sports, fishing, and being outdoors in the beautiful Colorado mountains in his spare time.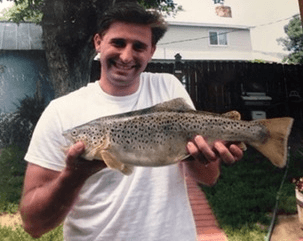 Jordan enjoying one of his favorite hobbies, fishing!
Colorado Bar, 2018
New Mexico Bar, 2017
Wyoming Bar, 2015
United States District Court 10th District (Colorado), 2018
Colorado Trial Lawyers Association
Denver Bar Association
Colorado Bar Association, 2018-Present
Wyoming Bar Association, 2015- Present
New Mexico Bar Association, 2017-Present
Juris Doctor, University of Wyoming College of Law, 2014
Bachelor of Science, Business Management, University of Wyoming, 2011
Presentations
Participated in You Be The Judge through the Wyoming Judiciary, January 2016. I helped Wyoming constituents understand the judicial system by reviewing a mock trial with participants.
Summer Trial Institute at the UW College of Law, Summer, 2013.
Pence & McMillan Client Counseling Competition, April 21, 2013.
Attended numerous legal clinics to help advise on legal matters for low income individuals for family law, collections, Medicaid, power of attorney, landlord/tenant, and wills and trusts.
Attended clinics and/or pro bono nights in Wyoming, Colorado, and New Mexico.