Kara Martin
Intake Attorney
Kara Martin is an Intake Attorney at The Harris Law Firm's Denver office, where she draws from her extensive experience to help clients as they embark on their divorce, family law, and estate planning journeys.
Drawn to the legal profession by her innate desire to make things better for those who need help but struggle to access it, Kara earned her undergraduate degree from the University of Texas at Austin before attending Indiana University School of Law. Following law school, she practiced law in New Mexico, where she was honored to serve low-income members of Indian Pueblos, victims of domestic violence, children, the elderly, people with different abilities, and people impacted by the criminal legal system, and served as a Magistrate for several years.
After practicing law in New Mexico for nearly a decade, Kara moved to Colorado in 2004 and spent the following 20 years honing her craft and expanding her practice. Today, her legal experience encompasses a range of matters that so often prove critical to our clients' cases, including family law, guardian ad litem representation, elder law, estate planning, guardianship/conservatorship, public benefits, criminal law, and civil law. This depth of experience, coupled with her personal background and time spent in the roles of attorney, magistrate, and client, provides her with a unique perspective in understanding legal issues and the long-lasting impact of their resolution.
As an Attorney at The Harris Law Firm, Kara has cultivated a reputation for providing meaningful, realistic, and solution-oriented counsel. She takes the time to listen to her clients and leverages her experience to help them identify key issues in their cases, assess the strengths and weaknesses of their positions, and provide the insight-driven counsel they need to make informed decisions about their futures. In all matters she handles, she strives to make the legal system understandable to nonlawyers.
In addition to her pragmatic, solution-oriented approach, Kara is known for being a caring advocate, especially in matters involving children and other sensitive issues. She knows that people seeking family law services often do so because they find themselves at a fork in the road and makes it a point to provide the level of support that helps them find hope amid emotionally turbulent times. Having spent years of her career working with domestic violence victims and other individuals facing difficult situations, she also utilizes her training in trauma-informed approaches and invests time into connecting clients with non-legal resources that can help them build a stronger path forward.
Outside of the courtroom, Kara enjoys spending time with her family, their two dogs Lou and Steve, and watching her kids discover their interests and talents.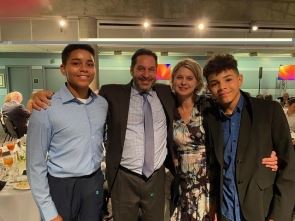 Colorado (2004)
New Mexico (1996)
US District Court, District of CO (2004)
Colorado and Arapahoe Bar Associations
Supreme Court Judicial Education Subcommittee on Mental Health, member (2019-2020)
Jail-Based Behavioral Services Steering Committee, member (2019-2020)
Family Law Institute Planning Committee, member (2016)
CBA Providers of Alternative Legal Services (PALS) Committee, member (2015-2018)
Denver Metro Domestic Violence Fatality Review Committee, member (2012-2017)
Domestic Violence and Legal Issues Committee, CLE Subcommittee member (2012-2013)
Colorado Commission on Child Support, member (2009-2010)
Indiana University School of Law, J.D.
University of Texas at Austin, B.A., Geography/Environmental Resource Management
Mental Health Diversion and General Adult Diversion Programs (multiple presentations 2018-2023)
Updates to Chief Justice Directive 04-08 (2016 CLE)
CFI Role, CJD 04-08, Eligibility and Complaints and Safety Tips, SCAO CFI Training (2014, 2016, 2017, 2019 CLEs)
Parents with Diminished Capacity, 6th JD Best Practice Court Team D&N Multi-Disciplinary Training (2014 CLE)
Sorensen Issues, Family Law Spring Update (2014 CLE)
Children's Law Center Domestic Violence Program Quarterly Volunteer Attorney Trainings (2011-2013 CLE)
Guest Lecturer, Denver University family law class and child advocacy practicum (2011-2013)
Child Interviewing, Pilot CFI Mandatory Training and Metro Denver Interdisciplinary Committee (2012 CLEs)
Imputing Income, Split/Shared Parenting Time and Contempt of Court, 18th JD Fall CLE (2010 CLE)
Medical Marijuana and Parenting Time, More Questions than Answers, Family Law Institute (2010 CLE)
Child Support Problem-Solving Courts, Colorado Summit on Children, Youth and Families (2008, 2009 CLE)
Contempt Scenarios, Family Law Institute (2008 CLE)
A Morning of Contempt, Arapahoe Bar Association Family Law CLE (2007 CLE)
Post-Decree Modification Standards/Removal, Bench & Bar Family Law Institute (2007 CLE)
Jurisdictional Conflicts: A Focus on Domestic Relations Issues in Indian Country (1998 CLE)
Project Angel Heart, Food Bank of the Rockies, Jackrabbits youth baseball, and school volunteer (2022-2023)
Law Line 9, volunteer (2011-2013)
Court Appointed Special Advocate Legacy Project, Arapahoe County CASA, foster child mentor (2009-2014)
Domestic Violence Bench Book Protection Order Chapter, editor/author (2009)
Colorado Fund for People with Disabilities, secretary of the board of directors (2006-2007), member (2005-2007)
Metro Volunteer Lawyers (2023)