Kelly Lynch Murphy
Partner
As a family law attorney for The Harris Law Firm, Kelly Lynch handles a wide range of divorce, child custody, and other family law cases that require compassionate and experienced guidance, both as an attorney and a mediator. Her work allows families the ability to achieve the best solutions, no matter how routine or complex the circumstances.
Her achievements have been recognized by Law Week Colorado, which named her to its "Up and Coming Lawyers" list in 2015.
Her aim with every client is to defuse high-conflict situations by developing the strongest solutions for both parties, also while protecting the rights of her client. Her other aim is to educate her client, in true Harris Law Firm fashion, in order to bring clarity and understanding to a complex situation.
In addition to her work as a family law attorney at The Harris Law Firm, Ms. Lynch devotes her time to pro bono work. She has previously spent her time advocating on behalf of homeless veterans in child support cases, divorce cases, and parental rights cases. For her pro bono work, she has been awarded the Pro Bono Honors Award.
From her involvement in the legal community, to her crucial volunteer work on behalf of society's marginalized people, Attorney Kelly Lynch provides an ideal example of what a lawyer is: someone who is a true advocate, speaking on behalf of those who lack a voice through her valuable experience and insight. Clients who work with Ms. Lynch have the peace of mind that comes from working with an attorney who combines skill and insight with dedicated compassion and integrity.
In her spare time Kelly loves to hike.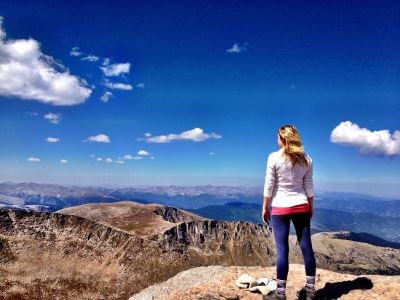 In this photo, Kelly is climbing Beirstadt.
Super Lawyers Rising Stars 2017, 2018 & 2019
Law Week Colorado "Up and Coming Lawyers" for 2015
Co-Chair of the Evergreen Chamber of Commerce Ambassadors
Colorado Bar Association- Family Division
Denver Bar Association- Young Lawyers Division
Women of Evergreen Business Association
Metro Volunteer Lawyers
Thomas Jefferson School of Law
Intellectual Property Fellow
Student Pro Bono Honors Legal Award.
Veteran's Clinic Alumni Scholarship
Student Volunteer Lawyers Project.
College of Charleston
Departmental Honors, College of Charleston
University of South Carolina Dean's List
Member of The National Society of Collegiate Scholars
Young Contemporaries Art Exhibit
The LINK Magazine, Top Thirty Under Thirty, Who's Next?
Organized, promoted, and presented a three-part educational series and CLE with two estate planning firms on: "The Union of Colorado Family Law and Estate Planning" on May 12, 19, and 26th, 2016
Alternative Dispute Resolution Annual Seminar: Family Law Mediations: Knowing Your Limits - 2017
Family Law Court Program since 2012
Metro Volunteer Lawyers since 2013
Mi Casa Legal Night since 2013
Rocky Mountain Children's Law Center since 2013
Family Tree legal Clinics since 2014