Lara Rausch
Attorney and Counselor at Law
Lara Rausch is an Attorney and Counselor at Law at The Harris Law Firm, where she provides client-focused representation to clients from our Denver office.
Drawn to law at a young age, Lara has an innate passion for examining high-conflict situations and searching out the truth. She was born and raised in Delaware and attended the University of Delaware, where she was deeply involved in student organizations and the school's study abroad program.
After earning her undergraduate degree in Philosophy and Political Science, Lara went on to study law at Duquesne University. While in law school, she served as President of the Criminal Law Society, worked in local legal clinics, and helped form and incorporate non-profit organizations, including a brain injury support group and teenage domestic violence group, in the Greater Pittsburgh area. While still a law student, Lara was sworn in to practice under a special license prosecuting minor offenses in her home state of Delaware.
As an Attorney at The Harris Law Firm, Lara is passionate about being an advocate for clients with difficult divorce and family law cases. She understands that times of transition and emotional turbulence can profoundly disrupt a person's life and the lives of their loved ones and is intent on helping clients make the best possible decisions for their futures and families.
Lara's practice is shaped by her compassionate, knowledge-driven approach. She makes it a priority to establish the level of trust and candor that allows her clients to explain their goals and takes the time to reconcile their perspectives with the reality of their situations, applicable laws, and available options. Operating with the intent to set every client up for future success and stability as efficiently as possible, Lara focuses equally on equipping clients with knowledge of the law and legal process as she does on helping them stay above conflict so they can focus on meaningful and productive conversations.
Outside of the courtroom, Lara loves volunteering with the Colorado Lawyer's Committee, Metro Volunteer Lawyers, and other local organizations. Since moving to Colorado in 2013, she has learned how to ski and happily spends most of her free time in the mountains or with her niece. She is currently working on the 14ers (hiking and skiing down them) with plans to tackle more prominent peaks.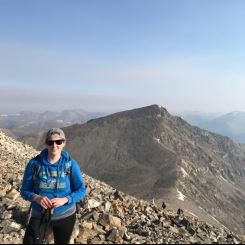 New York
Colorado
US District Court, District of Colorado
US Court of Appeals, Tenth Circuit
Colorado Women's Bar Association
Colorado Bar Association
1st Judicial District
Duquesne University, J.D.
University of Delaware, B.A., Philosophy and Political Science
CLE - Updates to the Pennsylvania Child Custody Law, Duquesne University, April 16, 2011
Metro Volunteer Lawyers, 2023
Rising Legal Clinic at Trinity Church, Arvada, Colorado, 2022, 2023
Colorado Lawyers Committee, Denver Legal Night, 2023, 2022
Colorado Lawyers Committee, Project Homeless Connect, 2018 and 2019
Boulder Bar Association, 4th Annual Tree Planting, 2014