Marivette Rivera
Attorney and Counselor at Law
Marivette González Rivera is a family law attorney and a Certified Family Law Mediator with experience counseling clients in a broad range of divorce and family law matters. Prior to joining The Harris Law Firm, she owned her own successful family law practice in Orlando, Florida, where she was a distinguished member of the legal and local community.
As an attorney, Marivette knows that each case has a unique set of circumstances that demand a customized approach. She takes the time to listen to clients, educate them about the rights and options, and provide the support that's so often required during sensitive family matters. Her practice has been shaped by both her years of practicing exclusively in family law and her personal experiences as a mother who has been through the divorce process herself.
Marivette is a graduate of Rutgers University, where she received her undergraduate degree in Administration of Justice with a Criminology Certification and minors in Sociology and Spanish. She went on to work as a Senior Probation Officer in Seminole County, Florida supervising high-risk offenders and domestic violence cases before attending Florida A&M University, College of Law.
While in law school, she worked in the Homelessness Clinic assisting clients with family law and landlord/tenant matters, served as lead intern in the pro bono Community Economic Clinic providing legal assistance to small non-profit businesses, and earned the Holly Marie Stutz scholarship for outstanding academic qualifications and commitment to public interest law. After obtaining her law degree, she served as a Public Defender in the Ninth Circuit in Orange County, Florida, where she represented hundreds of clients in various criminal law matters.
Marivette eventually left her role as a Public Defender to open her own law firm in Orlando, Florida. During her time in Florida, she cultivated a reputation as one of Orlando's most respected family law attorneys and distinguished herself in its vibrant leadership community. She has served on the Board of Directors for the Hispanic Chamber of Commerce of Metro Orlando and Young Fathers of Central Florida, an organization dedicated to addressing fathers' rights in family law matters, and has held membership roles with many other community- and industry-oriented organizations. She has also been featured as a guest commentator on outlets such as Univsion, Telemundo, and Orange County TV.
Over the course of her career, Marivette has helped numerous clients in a broad range of family law cases. She has counseled business owners, people with foreign decrees, and parents in matters involving custody, child support, relocation, modifications, prenuptials, enforcement proceedings, and paternity issues. She has helped clients reach agreements in mediation and counseling high-net-worth clients. In all matters, she approaches her clients with respect and compassion while helping them identify their roles, expectations, and viable solutions that align with their best interests and the best interests of their children and families.
Marivette was born in Puerto Rico and moved to New Jersey as a child. She lived in Florida for over 20 years before moving to Colorado in 2021. In her transition from sandy beaches to snowy mountains, she has enjoyed exploring Colorado's many trails and its change of seasons with her husband and children.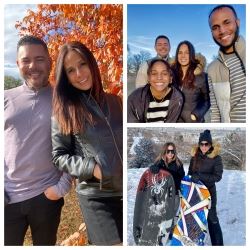 State of Florida Supreme Court Certified Family Law Mediator, Aug. 2016
Interdisciplinary Collaborative Law Practice Trained- Family Law, Aug. 2019
10 Best Family Law Attorneys for Client Satisfaction, American Institute of Family Law Attorneys, 2015, 2016, 2018, 2019
Orlando Attorney of the Year, Orlando Style 2019
Who's Who Spotlight Legal Elite, Orlando Style 2018
AVVO Client's Choice Award, 2015, 2017, 2018
Lawyers of Distinction, 2016, 2017
Women's Executive Council of Orlando Women's Achievement Award Nominee, 2016
Girl Scouts of Citrus Women of Distinction Award Nominee, 2016
Alumni Honoree Award for Public Service by the Florida A&M University College of Law, 2016
Don Quijote Awards Professional of the Year Nominee, 2015, 2016
Hispanic Chamber of Commerce of Metro Orlando's 25 Influential Hispanics in Central Florida, 2016
"Mujeres Destacadas" Community Leadership Nominee, 2015
State of Colorado, 2021
State of Florida, 2009
U.S. District Court Middle District of Florida, 2009
Colorado Bar Association (2021-Present)
Colorado Hispanic Bar Association (2021-Present)
Denver Bar Association (2021-Present)
CBA-Family Law Section & Health Care Section (2021- Present)
Colorado Hispanic Bar Association (2021-Present)
Colorado Defense Lawyers Association (2021-2022)
Florida Bar Association (2009-Present)
OCBA: FL Orange County Bar Association (2007-Present)
Florida Bar Association - Diversity and Inclusion Committee, Appointment by the
Florida Bar President (2021-2022)
Central Florida Family Law American Inn of Court (2012-2022)
Hispanic Chamber of Commerce of Metro Orlando (2010-2022), Board of Directors (2017-2021)
Family Law Section of the Florida Bar (2008- 2022)
J.D., Florida A&M University College of Law, 2008
B.S., Rutgers, Major: Administration of Justice, Minors: Sociology and Spanish, 1994
Media Appearances:
2021: Radio Guest- Nosotras News - Rise in Violence Against Women Prompts Puerto Rican Government to Declare State of Emergency in January.
2020: Guest Speaker- Despierta Orlando - Univision

Family Law and the Courts amid Covid 19
Family Legal Rights: Child Support & Custody

2013- 2020: Guest Co-host on Speak Out TV
2015: Guest legal analyst at Mundo Fox on Domestic Violence.
2014: Guest Speaker for Orange County TV segments of "Conozca Sus Derechos" ("Know Your Rights")
2013: Legal Analyst for Telemundo's three-part Special Programming on "Cyberbullying- A Nightmare in the Schools."
Presentations:
2022 (Feb.): Panel Speaker-Virtual Florida TRIO Student Leadership Conference.
2021 (Oct.): Facilitator- Pre-Law academic cluster for CARE at Florida State University for students exploring the journey into the legal field.
2020, 2019, 2018, 2016: Featured Legal Speaker- The Annual National Teen and Young Fatherhood Conference by Young Fathers of Central Florida.
2020: Panel Speaker- Latinos & the Law. Hosted by the Hispanic American Law Students Association of Florida A&M University College of Law.
2019: HCCMO Panel Speaker for Central Florida Business Owners, "Growing Your Business: Leads/Relationships."
2019: A Keynote Speaker at the I am Brave Conference.
2019: Mujer Emprende (ME) Latina

Keynote Speaker - Tool Box Series- All you need for entrepreneur success.
Legal Panel - Know your rights - Domestic Violence- Covid- Empowering and Educating Women.
Speaker - Mujer Emprende Latina & We the Women Movement, International Women's Day (IWD) 2020.
2022: Metro Lawyers Volunteer Family Law Court Program.
2022: Volunteer with A Little Help (ALH).
2022: Scoring Panel Volunteer in Denver Regional High School Mock Trial.
2021-2022: Florida Bar Diversity and Inclusion Committee.
2021: Scoring Panel Volunteer in AMTA Mock Trial Regional Tournaments.
2017-2020: Mentor for Legal Studies Students: University of Central Florida (UCF) & Legal Studies Internship Host Site Participant.
2019: Career/Mentor: Career Source - Boone High School (Summer 2019).
2019- 2020: Attorney Participant in FAMU College of Law's First Inaugural Careers Day.
2019: Advisory Board - nonPareil Institute (nP) Orlando (Serving Adults with Autism).