Paul Duda
Attorney and Counselor at Law
Paul Duda is an accomplished trial attorney that focuses his practice on family law. He brings with him over 30 years of litigation experience where he has litigated and tried cases in family law, criminal law, insurance law, personal injury, wrongful death, and aviation involving millions of dollars in controversy. He has litigated cases of varying degrees of complexity in Colorado, Arizona, Wyoming, Nevada and Texas. He has also managed law offices for companies such as CNA Insurance Company.
Mr. Duda believes in compassionately listening to his clients and providing each with sound legal counsel so that they are able to make the best choices in their case and their life in general. He also believes in developing and adhering to a professional rapport with opposing attorneys, judges, magistrates and court staff, and establishing trust and confidence in all while continuously keeping the lines of communication open, and working towards a fair and equitable resolution for his clients.
Paul grew up in Western Pennsylvania and attended Duquesne University in Pittsburgh where he earned his Bachelor of Arts degree in 1979. While in high school, he studied the trumpet at Duquesne University. In 1983, he earned his law degree from The University of Toledo College of Law in Toledo, Ohio. After graduation, he became licensed in Pennsylvania in 1984 and then in Arizona in 1985. Paul has had a love affair with Colorado since visiting the state in 1982. He was admitted to the practice of law in Colorado on April 19, 2013 and practiced in both Colorado and Arizona. In June 2015, Paul moved to Colorado where he has made it his home and enjoys all the beauty and opportunity the state has to offer.
Mr. Duda has been admitted to practice in the State of Colorado, the State of Arizona, Commonwealth of Pennsylvania and the United States District Court for the Districts of Colorado and Arizona. The Arizona Board of Legal Specialization recognizes him as a Certified Specialist in Personal Injury and Wrongful Death Litigation since 1997, a designation held by only 1% of the licensed attorneys in Arizona. Paul is a member of the Colorado Bar Association and the State Bar of Arizona.
Paul routinely volunteers his time providing legal assistance to those who may not be able to afford an attorney. Historically, he has served on his church management committee and taught religious education classes to high school students. He has also served as a leader with the Boy Scouts of America and an officer of a non-profit organization dedicated to feeding the homeless. Paul currently continues to provide pro bono services in various areas of the law and serves as an officer on the board of directors of a homeowners association.
When he is not advocating for his clients or volunteering his time to important causes, Paul enjoys balancing his life with other activities. Paul is a private pilot, a motorcycle enthusiast, and a musician (trumpet and guitar). When he is not flying, riding or playing, he enjoys running, biking, strength training and exploring the great state of Colorado.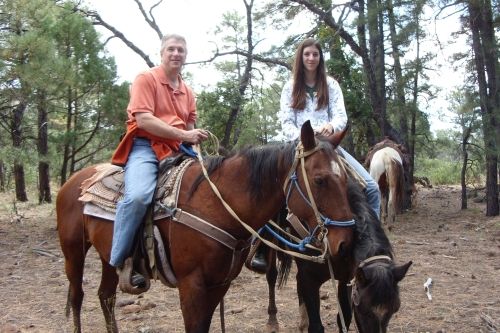 Paul with his daughter, Lauren on a horseback ride.
State Bar of Colorado
State Bar of Arizona
Commonwealth of Pennsylvania
United States District Court for the Districts of Colorado and Arizona
Colorado Bar Association
State Bar of Arizona
University of Toledo College of Law in Toledo, Ohio 1983