Rachael Kamlet
Attorney and Counselor at Law
Rachael Kamlet is an Attorney at The Harris Law Firm who provides insight-driven representation to clients in our Denver office. She focuses her practice on a range of divorce and family law matters.
Rachael is a Florida native who grew up in Miami Beach. She attended Florida State University, where she double majored in Psychology and Family and Child Sciences, and Nova Southeastern School of Law, where she earned her law degree. Eager to explore the mountains, she enrolled in the LL.M program at the University of Denver Sturm College of Law, eventually earning two LL.M degrees in Tax Law and Environmental and Natural Resource Law and Policy, and has been in Colorado ever since.
Rachael's path to becoming a family lawyer was shaped by her desire to make a difference in the lives of others, as well as defining and turbulent experiences of her own.
Both Rachael and her sister were adopted. Rachael experienced the divorce of her parents and, later in life her sister's involvement in the juvenile system and tragic passing. Following the loss of her sister, Rachael was motivated to help others and became involved in volunteer work with Holocaust Survivors, which further inspired her interest in advocacy. She found family law to be the one area of law where she could make a meaningful difference by helping people navigate turbulent times and situations she can relate to on a personal level.
In her practice, Rachael leverages her psychology background, advanced law degrees, and personal experiences to provide personalized and pragmatic representation. Her advanced legal education allows her to help clients tackle tough problems, including those involving children, alimony, asset division, and complex marital estates, while her psychology background enables her to effectively explore her clients' goals and concerns in a collaborative and productive manner.
To both colleagues and clients, Rachael is known for her compassionate and empathetic approach, as well as her ability to create safe spaces that help her clients feel comfortable sharing what can be uncomfortable information. She believes in being open, upfront, and realistic to minimize surprises and works diligently to identify appropriate solutions based on each client's particular needs. Knowing what it's like to feel that your world has been turned upside down, she takes the time to ensure that every client feels heard and to share any wisdom she's gained from her personal experiences.
As a Florida kid, Rachael spent a lot of time in the water. After moving to Colorado for her LL.M degrees and landing a job at Colorado Parks and Wildlife, however, she's been in love with the mountains. When she's not advocating for her clients in court, she enjoys camping, hiking, snowboarding, snowshoeing, and being outdoors with her two dogs and fiancé. She also dabbles in ice hockey and plays with the Denver Women's Ice Hockey League.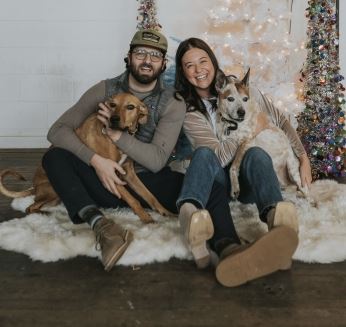 Rachael enjoying the holidays with her loved ones
Colorado Bar Association
CBA, Family Law Section
Florida State University, B.A. Double Major

Family and Child Sciences
Psychology

Nova Southeastern University, J.D.
University of Denver Sturm College of Law

LL.M in Environmental and Natural Resource Law and Policy
LL.M in Tax Law
Adjunct Professor at the University of Denver, Sturm College of Law, Holocaust Seminar.
Denver Metro Volunteer Lawyers