Ross Marhoffer
Attorney and Counselor at Law
Ross Marhoffer is an Attorney at The Harris Law Firm whose previous work spans from helping families obtain citizenship in immigrations proceedings to reunifying families in matters of family law.
Born in New York City and raised in Connecticut, Ross was introduced to family law by his mother, who has been a family law practitioner for thirty years. This early introduction built a strong foundation for his understanding of the laws that pertain to divorce and the personal impact it has on the individuals involved, including children.
Ross graduated with honors from the University of Colorado and went on to graduate with honors from the Savannah Georgia School of Law. In law school, he was an editor of the Savannah Law Review Journal and a founding member of the local chapter Federalist Society. He additionally served as Legal Clerk to the Hon. District Court Judge David Gilbert and worked as a Civil Law intern at the Manhattan Securities Litigation firm Shrader & Schoenberg, LLP before returning to Colorado, where he has practiced for roughly five years in the fields of immigration and family law.
As a family lawyer, Ross takes a logical but compassionate approach to cases. He thoroughly prepares for mediation and court dates, provides detailed explanations about possible outcomes and best strategies, and keeps clients informed about their cases with frequent updates.
Outside of the legal world, Ross enjoys snowboarding, travel, and studying foreign languages (he is an intermediate speaker of Spanish, French, and Mandarin Chinese). He is a federally licensed solo single propeller engine aircraft pilot and a search and rescue flight crew officer in the Pikes Peak Squadron of the USAF Aux Civil Air Patrol, which conducts civilian search and rescue flights to locate missing hikers and downed aircraft in the Front Range region.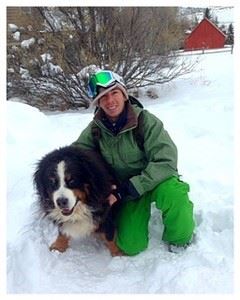 Ross enjoying the outdoors with his dog.
Colorado
Federal Immigration Court
El Paso County Bar Association
Colorado Bar Association
2nd Lieutenant in the U.S. Air Force Auxiliary Civil Air Patrol
Federally Licensed Solo Single Propeller Engine Aircraft Pilot
Savannah Georgia School of Law, J.D. with Honors
University of Colorado, B.A. with Honors