Sarah Rizzolo
Senior Counsel
Sarah Rizzolo is an Attorney at The Harris Law Firm who is passionate about helping clients navigate difficult divorce and family law matters.
Born into a family of eleven lawyers, Ms. Rizzolo was first exposed to family law when working at her family's law office as a child. Seeing how her father, grandfather, uncles, and great-uncles made the difference for clients facing stressful divorce and custody cases, Ms. Rizzolo came to understand the importance of a dedicated legal advocate. She chose to become a lawyer not because it was expected by her family, but because she too wanted to help people facing turbulent times.
Since receiving her law degree from the University of Denver in 2005, Ms. Rizzolo has focused her practice on family law and grown accustomed to dealing with complex cases. With a background in sociology, she draws from her study of human behavior and acceptance to help clients identify their goals and strike compromise when needed. Ms. Rizzolo also has a background in mathematics and finance, which is an asset in resolving issues such as property division and support.
As an advocate, Ms. Rizzolo considers both sides of an issue to develop custom-tailored solutions. In many cases, this means exploring creative strategies for out-of-court settlements. In contested cases, it means going to bat at court to get the best possible orders in place. When trying a case, Ms. Rizzolo has no qualms about exposing the other side to achieve the desired goals. She has the ability to see through the other side's tactics and uses this advantageously for her clients.
What sets Ms. Rizzolo apart from other family law attorneys is a desire to passionately support her clients, as well as a sensitivity for when to be aggressive and when to temper that inclination in order to get the best possible outcome.
Prior to joining The Harris Law Firm, Ms. Rizzolo secured "Lead Litigator" status and earned the "Top Regional Attorney" award.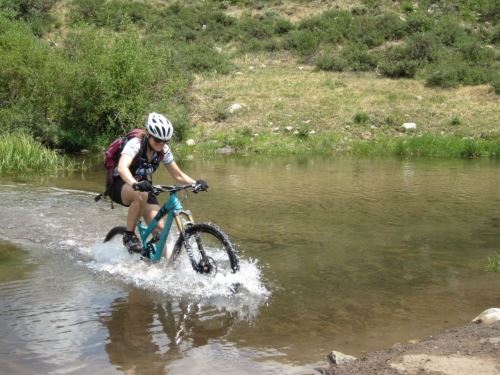 Sarah enjoying mountain biking in Crested Butte, Colorado.
Boulder Bar Association
Colorado Bar Association
University of Denver, J.D.
University of Colorado at Boulder, B.A. in Sociology