Connect With Us
The Harris Law Firm is here for you! Get in touch with us by requesting a consultation, asking us a free legal question, or speaking with a counselor or therapist.
Colorado Divorce & Family Law Attorneys
The Harris Law Firm is Colorado's largest family law firm, and focuses exclusively on family law issues such as divorce, child custody, and child support.
Our philosophy is to help you to resolve your legal matter in the best way possible. We accomplish this through teamwork, communication, and other progressive strategies. Since we founded our firm in 1993, we have been providing clients and potential clients alike with sound legal counsel in all areas of Colorado family law. We have four offices: Denver, Fort Collins, Evergreen, and Englewood. To learn your legal rights and options, contact a Colorado family law attorney at The Harris Law Firm.
I am seeking a...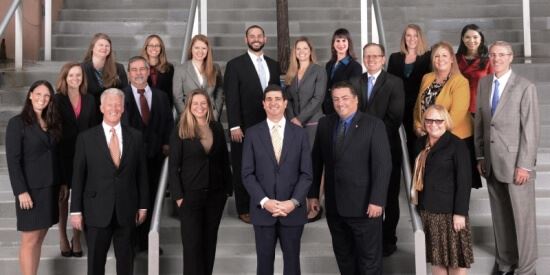 Put Our Devoted Team to Work for You
Our legal experts will ensure that the resolution of your case is handled in the most organized, timely, cost efficient and effective manner possible.
Meet Our Attorneys
The Harris Law Firm, P.C. Difference
Focus On Family Law

Because Colorado family law is constantly evolving, it demands our full time and attention to remain at the forefront and provide our clients with exceptional representation. For that reason, our firm focuses exclusively on family law.

Teamwork

Taking a progressive approach to family law representation in Colorado, the attorneys at our firm meet frequently to discuss strategy and case details. In this way, our clients benefit from having the entire weight of our legal team in their corner.

Focus On Children

During a divorce or custody matter, children are prone to take the brunt of the emotional stress. Our firm focuses on protecting children and fighting for the parenting plan that is in their best interests.

Assistance Through Challenges

Most family law cases are emotionally taxing, so we commit to not only being our clients' legal advocate, but also an advocate for their wellbeing. For this reason, The Harris Law Firm is happy to provide access to marriage counselors and family therapists.

Communication

The attorney-client relationship is most effective when it operates as a two-way street. Our focus on communication means we consistently ask for feedback from our clients to provide the best possible service.

Cost Efficiency

Generally, our rates are more affordable than most family law firms in Colorado because of our commitment to diffusing situations that could cause prolonged court battles, focusing exclusively on family law, and utilizing the latest technologies.

A Culture of Diversity

We are committed to providing equal opportunities to clients of all ages, races, cultures, sexual orientations, religions, and socioeconomic status.
How You Can Benefit
Often in divorce and child custody proceedings, it is the children who suffer the most. The Harris Law Firm exists to ensure that doesn't happen. The family law representation we provide focuses on minimizing conflict to protect the emotional wellbeing and best interests of the children involved.
How We Can Help
Divorce is a multi-faceted process that raises a variety of questions.
Whatever issues are involved in your divorce or family law case, The Harris Law Firm has free resources to help. Take advantage of our videos, articles, and answers to common questions so you can stay informed and empowered as you face the legal process.
Access Free Info
Our Office Locations
The Harris Law Firm has four convenient locations throughout Colorado
- Denver, Fort Collins, Englewood, and Evergreen. Visit the location nearest you!