Englewood Kids Enjoy the Great Egg Scramble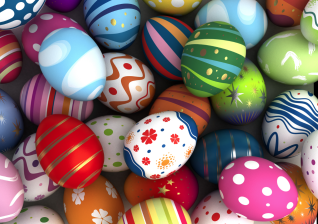 A little bout of snow could not keep the children from their egg hunt. Despite the event being postponed and moved, Englewood's March 26 Great Egg Scramble occurred this past Saturday, to the enjoyment of everyone involved. Rather than taking place at Miller Field this year, the event moved to Englewood Recreational Center.
This was the first time the Great Egg Scramble occurred indoors. To prepare for the event, volunteers transformed the gymnasium's floors into an egg hunt wonderland. The volleyballs and basketballs disappeared and plastics eggs, toys, and candy took their place.
To accommodate everyone, the event was split into two sessions. In each session, there were two clearly marked areas for the different age groups. The first session included children between the ages of one and four. In the second session, kids between the ages five and eight participated. Volunteers quickly replenished the goodies after each term.
While the crowd was smaller in comparison to the outdoor event, everyone had a good time. Organizers believe that almost 2,000 plastic eggs were hidden, as well as a variety of toys and candy. Approximately 200 families attended. Parents watched their children sweep up the treats in less than five minutes.
A parent from Kansas who participated said,
They [kids] are all smiles today. I think it is great the city does this for its people. I wish our town in Kansas would do something like this.
At The Harris Law Firm, we know how important it is to spend the holidays with your children. Lasting memories are made at events such as these. If you are going through a divorce, contact our Colorado child custody attorneys. We will work to minimize the conflict between you and your ex and help you keep custody of our children. Call today to talk to one of our experienced lawyers.
Posted By
The Harris Law Firm
Categories:
Contact Our Colorado
Family Law Firm
If you are in need of a compassionate, skilled, and experienced Colorado family law attorney, The Harris Law Firm can help. If you have a legal question about a domestic relations issue, including divorce and the allocation of parental rights, please complete our contact form below. A member of our legal team will be in touch with you soon to arrange a private consultation with one of our experienced attorneys. Together we can find a resolution.