COLORADO Alimony Attorneys
Helping Clients Establish Fair Spousal Maintenance in Divorce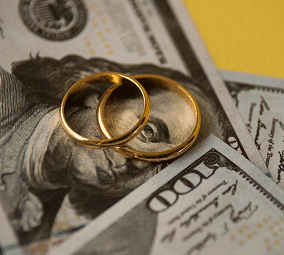 When a couple decides to divorce, the following question naturally arises: how can each person fairly shoulder the financial burden of the separation? While couples generally agree that each partner contributed to the marriage in different ways, divorce requires major adjustments to both parties' lifestyles, especially for those who earned less or did not work outside the home.
The economic lives of spouses are frequently so closely intertwined in marriage, that it is often impossible to later separate the respective decisions and contributions of each spouse. You need an experienced Colorado alimony lawyer who can effectively fight for your fair share of spousal maintenance.
Call The Harris Law Firm today at (303) 622-5502 to have Colorado's premier family law firm on your case.
What is Spousal Maintenance?
The term "maintenance" is used in Colorado for what many people commonly refer to as "alimony". Maintenance is intended to allow the lower wage-earning spouse time to adjust to the financial independence that divorce requires.
Good maintenance agreements are ideally mutually agreed upon and ensure that no spouse suffers financially from a divorce. It is important to remember that maintenance is not punitive—the idea is to create two financially-stable households out of one. However, without good legal representation, maintenance agreements can range from overbearing to negligible, neither of which helps bring peace to a divorce.
Can Alimony Vary?
First, it can vary in amount. Second, it can vary in duration, ranging from one lump sum payment to indefinite monthly payments. Finally, it can vary by the types of limitations that are placed upon it.
The following are different types of maintenance that can be awarded:
Temporary maintenance
Many couples cease sharing income at the time of separation, which can be detrimental to a spouse that was not working at the time or earning less income. Temporary alimony can be petitioned by the lower-earning spouse to assist them while the divorce is in progress.
Rehabilitative maintenance
If one spouse stayed at home to raise children or manage the household while the other worked, they can petition the court for rehabilitative alimony to support them while they pursue further education or training to increase their earning potential. This is the most common form of alimony in Colorado.
Reimbursement maintenance
As the name implies, reimbursement alimony is for spouses who provided financial support for education and job training advancements of the other spouse during the marriage. When the marriage ends, the spouse who supported their partner is no longer receiving the benefits of those advancements and may be entitled to reimbursement.
Permanent maintenance
Permanent alimony is very rare and only awarded in cases where one spouse is unable to become financially independent because of advanced age, illness, disability, or the inability to gain employment skills.
Serving Colorado for 25 years, The Harris Law Firm understands how important it is to establish fair maintenance for both parties. Our Colorado alimony lawyers are committed to finding the best possible solution for you and your family.
Contact us today to find out how we can help you.
How is Alimony Determined in Colorado?
In 2014, Colorado lawmakers developed advisory guidelines for the amount and term of alimony, aiming to make maintenance awards more consistent throughout the state. Courts are allowed to deviate from the guidelines, and the guidelines only apply to parties who have been married for at least three years and have a combined annual adjusted gross income of less than $240,000 dollars.
The court may consider the following factors when awarding maintenance:
The lifestyle of both spouses during the marriage;
The distribution of marital property;
Both parties' employability, whether additional training or education is necessary;
Whether one party has historically earned higher income or lower income;
The duration of the marriage;
Whether any temporary maintenance was paid during the pendency of the divorce;
The age and health of the parties, considering significant health care needs;
Significant economic or noneconomic contribution to the marriage or to the economic, education, or occupational advancement of a party;
The amount of support can be negotiated and agreed upon by the parties involved as long as it is not unconscionable. Additionally, maintenance can always be waived, and a party can use the waiver of alimony as a bargaining tool to receive a particular marital asset or some other benefit.
How Does Marriage Length Affect Maintenance Awards?
Marriages of less than three years generally do not have maintenance awards. For marriages greater than three years, there is a sliding scale relative to the length of the marriage that determines how long maintenance is given. For those marriages greater than 20 years, there is no set formula, rather it is within the discretion of the Court to determine a length of time where maintenance may be paid.'
Can Maintenance Be Changed Later On?
Maintenance is determined on a case-by-case basis and ends upon death, remarriage, or as otherwise agreed. However, if one spouse experienced significant changes in circumstances relating to income, they may petition the court to modify their existing alimony agreement.
THE HARRIS LAW FIRM DIFFERENCE
The Colorado alimony attorneys at The Harris Law Firm have over 250 years of combined experience, are skilled negotiators, and have a sound understanding of how maintenance is calculated in Colorado. Our grasp of family law and spousal support makes us an invaluable resource to any spouse filing for divorce..
Get started on your case today by calling our firm at (303) 622-5502. Attorneys are standing by the provide you with wise counsel.