Barbara Johnson-Stern
Senior Counsel
Barbara Johnson-Stern is Senior Counsel at The Harris Law Firm who has been practicing family law for over 20 years. She is a passionate advocate with extensive experience handling cases involving children, divorce, and complex finances.
Barbara has dedicated her career to family law because she enjoys helping people through tough times. A child of divorced parents, Barbara saw how her mother benefited from the support of a qualified and compassionate lawyer and was inspired to do the same for clients of her own.
In her practice, Barbara strives to alleviate the stress and confusion clients can feel under the weight of a daunting legal process. Her direct and straightforward approach helps clients define their expectations and understand the law as applied to their case. In addition to thoroughly preparing cases, Barbara places an emphasis on making sure clients understand they are in control on their case and that they are given the necessary time to contemplate her advice so they are never asked to decide important issues on the spot.
Barbara earned her undergraduate degree from Colorado State University and her Juris Doctor from Ohio Northern University Pettit College of Law, where she graduated at the top of her class, served as Editor in Chief of the Law Review, and competed in Moot Court. Prior to joining The Harris Law Firm, Barbara served as a Litigation Partner for a divorce and family law practice.
Since May of 1999, and with the exception of a single year early in her career, Barbara has been practicing family law along the Front Range. She has experience handing a range of divorce and family law matters in courts across Denver, Arapahoe, Douglas, Elbert, Jefferson, Adams, and Weld Counties, as well as courts in Breckenridge, Durango, and Sterling.
Barbara is admitted to practice law in Colorado and is also a licensed solicitor in the UK, having sat for their equivalent of the bar exam. While working and living in London over a period of years, she represented clients in both financial cases and cases involving children, and refined her skills helping clients untangle complex financial matters.
Barbara grew up mostly in Colorado, and has lived in a number of cities, including NYC and, most recently, London. Outside of the courtroom, she enjoys traveling both in and outside the U.S. with her husband. They enjoy spending time with friends and family, road biking, hiking, and being on the water.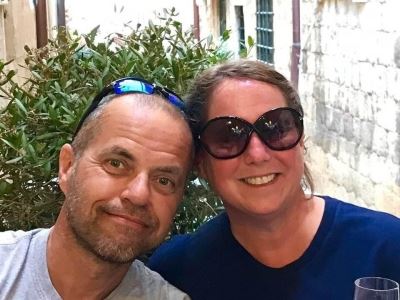 Barbara enjoys traveling! This photo is Barb and her husband enjoying their travels in Croatia.
Arapahoe County Bar Association Rising Star
Colorado Bar Association
Denver Bar Association
J.D., Ohio Northern University Pettit College of Law
B.A., Colorado State University, Agricultural Business