Emily Olson
Attorney and Counselor at Law
Drawn to law by a desire to make a difference in people's lives, Emily values her role as an advocate and takes pride in helping people navigate what are often the most difficult times in their lives. Having first-hand experience with divorce, she's able to understand and empathize with clients regarding the complexity of divorce with children and is always mindful of the potential effects divorce may have on those not principally involved.
Emily grew up in the greater Seattle, Washington area and attended the University of Oregon for both her undergraduate and law degrees (making her a proud "Double Duck"). During law school, she clerked for a law firm specializing in high-asset divorce, where she learned to facilitate strong working relationships with high-net-worth individuals facing high-stakes disputes involving property and business division, alimony, and child custody.
As an Attorney at The Harris Law Firm, Emily's practice is driven by her ability to help clients step back from stressful problems and apply the reason and logic needed to produce non-emotional solutions. She is organized, disciplined, and empathetic in her approach to tough cases, and is capable of thinking outside the box to help clients find workable resolutions when certain outcomes aren't obvious or possible. In all cases, she prioritizes communication to promote transparency and ensure her efforts are aligned with clients' unique situations and goals.
When not helping clients navigate the ins-and-outs of their family law cases, Emily enjoys exploring Colorado's outdoor adventures and snowboarding during winter.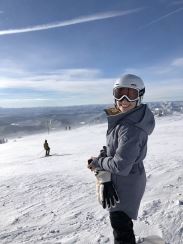 Colorado Bar Association
Colorado Women's Bar Association
University of Oregon School of Law, J.D.
University of Oregon, B.A. in Psychology and Political science