Faith Betz
Attorney and Counselor at Law
Faith Betz is an Attorney at The Harris Law Firm who provides personalized, experienced-backed representation in a range of divorce and family law matters.
A Tennessee native, Faith studied Communications at the University of Tennessee and earned her law degree from the University of Tennessee College of Law. While in school, she earned the Advocates' Prize in Moot Court Competition and served as a judicial clerk for the Hon. Jerry Scott of the Tennessee Court of Criminal Appeals. During her clerkship, Faith was able to meet and learn from presiding and retired judges, including the Hon. Allen Cornelius (ret.), who mentored Faith as a young lawyer and whose wisdom, dignity, and depth continue to inspire her practice almost 30 years later.
Prior to becoming part of The Harris Law Firm, Faith represented individuals and families in matters of probate, estate planning, and immigration. She has represented numerous refugees and asylum seekers fleeing persecution to start new lives in a safe place, and feels the same sense of fulfillment advocating for clients in family law cases that have the potential to profoundly shape their futures.
Faith's approach focuses on identifying options and opportunities for clients and preparing their cases thoroughly to find solutions to as many problems as possible. She takes the time to explain legal principles in lay terms and is a firm believer that the more she is able to partner with a client, the better their case can be positioned for success. Thanks to her experience and warm personality, Faith's clients find her highly accessible.
When she isn't working hard for her clients, Faith enjoys hiking and biking the trails of Colorado and taking advantage of Loveland's vibrant arts community by studying painting and pottery. She is a volunteer at Loveland's House of Neighborly Service.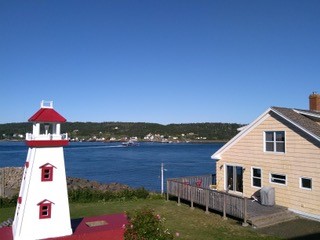 Faith's favorite place for family reunions – the Village of East Ferry overlooking the Petit Passage which connects Saint Mary's Bay and the Bay of Fundy in Nova Scotia.
University of Tennessee College of Law Advocates' Prize in Moot Court Competition and Labor Law Moot Court Team.
University of Tennessee College of Law, J.D. with Honors
University of Tennessee, B.A. with Highest Honors
"What Every Lawyer Should Know About Immigration Law" (Weld County Bar Association)
"Starting a Planned Giving Program" (Community Foundation of Northern Colorado)
"Estate Planning for Animal Companions" (Larimer Humane Society)
"Legal Issues for Early Childhood Educators" (Early Childhood Partnership of Adams County).
Guardian ad litem in east Tennessee
Volunteer Attorney for Rocky Mountain Immigrant Advocacy Network
Board Member for Foothills Gateway