Hannah Cope
Attorney and Counselor at Law
Attorney Hannah Cope chose to pursue a law degree when her work with refugee resettlement organizations in San Diego showed how much a dedicated advocate could help someone make it through a difficult time. Her compassion is her greatest strength, driving her to provide top-tier service to everyone she works with. Hannah recognizes that families come in all shapes and sizes and uses her creative problem-solving skills to find solutions that meet the unique needs of each client. She is also highly analytical, thinking through possible outcomes to the point other attorneys might consider her "overprepared." However, when your future is on the line, she knows there is no such thing as working too hard.
Prior to joining us at The Harris Law Firm, Hannah served in the Office of Legal Counsel for the Governor of Colorado. She held this position during the beginning of the COVID-19 pandemic, and therefore had a front-row seat to many of the difficult legal decisions that were made during that time. This experience gave her perspective on the legal system that is unique to her and the few others in such positions during this time.
Hannah grew up on an ostrich and emu ranch in Elbert County, Colorado. She left the state to attend San Diego State University for her undergraduate degree but came back to Colorado after graduating. She enjoys taking advantage of Colorado's many hiking, camping, and rock-climbing opportunities with her dog, Rocco.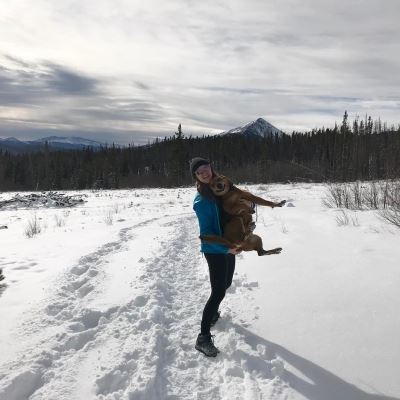 Hannah and her dog, Rocco enjoying a snowy hike!
University of Colorado Law, J.D.
San Diego State University, B.A., International Security in Conflict Resolution

Minor in Religious Studies
Minor in Interdisciplinary Studies

University of Colorado Law School's coach for The Willem C. Vis International Commercial Arbitration Moot competition