Hannah Cope
Attorney and Counselor at Law
Hannah Cope is a divorce and family law attorney at The Harris Law Firm who leverages an analytical, experience-driven approach to help clients in a broad range of family law matters.
Hannah was drawn to the practice of law through her work with refugee resettlement organizations in San Diego, an experience which showed her the difference a dedicated advocate could make for people facing difficult times. She earned her bachelor's degree in International Security in Conflict Resolution from San Diego State University and her Juris Doctor from the University of Colorado School of Law. She currently serves as a University of Colorado Law School coach for the Willem C. Vis International Commercial Arbitration Moot Competition.
Hannah recognizes that families come in all shapes and sizes and uses her creative problem-solving skills to find solutions that meet the unique needs of each client. She is analytical, thinking through possible outcomes to the point other attorneys might consider her "overprepared," and believes there is no such thing as working too hard on cases that can profoundly affect her clients' futures. And while she takes a pragmatic, purposeful approach to her cases, she knows her clients are often dealing with life-changing events and deserve to be treated with compassion and empathy.
Prior to joining The Harris Law Firm, Hannah served in the Office of Legal Counsel for the Governor of Colorado. She held this position during the beginning of the COVID-19 pandemic, and therefore had a front-row seat to many of the difficult legal decisions made during that time. This experience gave her perspective on the legal system that is unique to her and the few others in such positions during this time.
With our firm, Hannah leverages her insight to handle a range of cases. In addition to divorce, custody, pre-decree, and post-decree modification matters, she has experience with issues involving the Uniform Child-Custody Jurisdiction and Enforcement Act (UCCJEA), grandparents' rights, single fathers, common law cases, and dependency and neglect. She has become a trusted advocate for our clients and a respected attorney by her peers. In 2022, she was named to the Super Lawyers list of Rising Stars.
Hannah grew up on an ostrich and emu ranch in Elbert County, Colorado and returned to the state following her undergraduate studies (though California will always have a special place in her heart). She enjoys yoga, knitting, paintings, and taking advantage of Colorado's many hiking, camping, and rock-climbing opportunities with her dog, Rocco.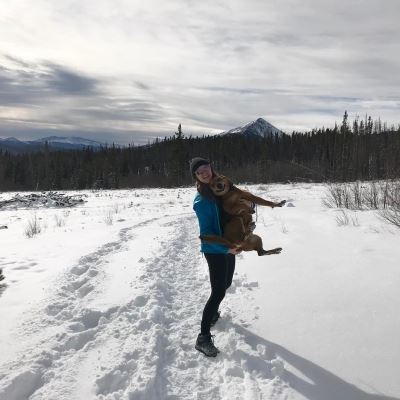 Hannah and her dog, Rocco enjoying a snowy hike!
Super Lawyers, Rising Stars 2022
Colorado Bar Association
Denver Bar Association
CBA, Family Law Section
University of Colorado Law, J.D.
San Diego State University, B.A., International Security in Conflict Resolution

Minor in Religious Studies
Minor in Interdisciplinary Studies

University of Colorado Law School's coach for The Willem C. Vis International Commercial Arbitration Moot competition
Metro Volunteer Lawyers, Volunteer (2021-present)