Hannah Van Roekel
Attorney and Counselor at Law
Hannah is an Attorney and Counselor at Law at The Harris Law Firm's Englewood Office. Whenever possible, Hannah helps her clients find efficient, amicable settlements on divorce, separation, child custody, and child support issues. When a case must go to court, Hannah is trial-tested and uses her passionate litigation skills to fight for her clients.
Hannah earned her undergraduate degree at Drake University with a major in Law, Politics, and Society. Having developed a nuanced understanding of the ways that law interacts with societal concerns, Hannah pursued a law degree with a passion to help individuals and families in need. Hannah attended Creighton University School of Law and graduated with honors
Hannah's passion to help individuals and families in need informs every avenue of her practice. This passion is what drove her to complete an externship with the United States Court of Appeals for the Eighth Circuit. At the Eighth Circuit, Hannah gained valuable legal skills and strengthened her passion for upholding the high standards of our esteemed legal system. Since that time, Hannah has dedicated her practice exclusively to all areas of domestic relations. With her comprehensive practice experience, Hannah has developed a distinct understanding for the needs of clients involved in domestic relations cases. Hannah's strongest skills include an unparalleled sensitivity to the needs of her clients, thorough attention-to-detail, and a drive to provide the highest quality representation.
In her spare time, Hannah enjoys traveling, being outdoors, and spending quality time with her husband and two golden doodles, Harvey and Humphrey.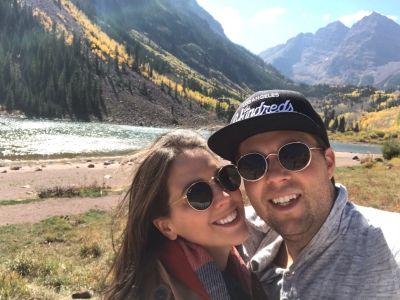 In this photo, Hannah and her husband, Tony, are visiting the Maroon Bells in Aspen, Colorado, which is also where they were married.
Best Lawyers "Ones To Watch" 2021-2022
Super Lawyer's Rising Stars 2022
Avvo Clients' Choice Award 2017
Five Star Avvo Rating
Juris Doctor, Creighton University School of Law
Bachelor of Science, Drake University, Major: Law, Politics and Society
Volunteer Attorney with Metro Volunteer Lawyers, 2017- Present
Volunteer Attorney with Denver District Court Ask-a-Lawyer Clinic, 2017-2018
Volunteer Attorney with Arapahoe County Pro Se Family Law Clinic, 2015-2017