Knicky Van Goetz
Attorney and Counselor at Law
Knicky Van Goetz is an Attorney and Counselor at Law at the Harris Law Firm's Evergreen office. She appreciates the unique elements of each individual's circumstances and tailors each case towards reaching client-specific goals in the best way possible.
Prior to joining the Harris Law Firm, Knicky was a managing attorney at general practice law firm where she specialized in family law and criminal defense. Knicky's foray into law began as criminal defense attorney, requiring daily court appearances on both misdemeanor and felony cases. This opportunity to represent client's freedom of liberty naturally progressed into a passion to protect client's family rights. While confident in the courtroom, Knicky recognizes the value of negotiation and mediation to reach a favorable outcome for her clients.
While attending University of Denver Law School, Knicky was selected by DU faculty to practice law through the university's Criminal Defense Clinic. Moreover, she served as an elected advocate for her peers as Vice President of the Student Bar. She also co-founded the Immigration, Refugee, and Asylum Coalition, and spearheaded a research-based legal publication calling for an end to police brutality and other civil rights abuses.
​Prior to attending law school, Knicky received her Bachelor's degree in Ecology and Evolutionary Biology from the University of Colorado. When she is not at work, Knicky enjoys exploring Colorado's beautiful wilderness by camping and hiking with her husband, Charlie, and their dogs, Kayenta and Kashmir.
​As a Texas native with dual citizenship, Knicky is comfortable speaking both Spanish and Portuguese conversationally.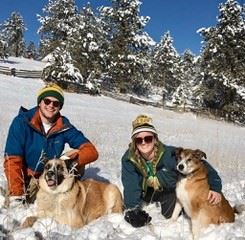 Knicky, her husband Charlie and their dogs (Sampson and Kayenta) in Evergreen this past Spring.
Colorado Bar Association
Denver Bar Association
B.A. Ecology and Evolutionary Biology- CU Boulder; J.D. University of Denver, Sturm College of Law