Marianne Blackwell
Attorney and Counselor at Law
Marianne Blackwell is an Associate Attorney at The Harris Law Firm's Englewood office. She focuses her practice on representing clients in debt and asset division, divorce, and other matters of family law, with a particular emphasis on tax planning, estate planning, and charitable gift planning.
Following an internship with the Oklahoma Tax Commission during her studies at the University of Oklahoma School of Law, Marianne began her practice as a bankruptcy attorney, working for both debtor and creditor firms and then the federal government as an FDIC attorney. It was in this field that she cultivated a passion for helping clients better understand the complexities of taxes and finances, and which prompted her move to Colorado to pursue an LLM in Taxation.
Though her studies were cut short after becoming a mother and moving abroad for her husband's job at an international law firm in Kazakhstan, Marianne maintained an interest in the financial aspects of legal practice and later moved into the field of gift / charitable planning in higher education at Colorado State University and the University of Colorado, where she used to her legal background to help donors create legacy gifts to support education access and scholarship. She now draws from her extensive experience to help clients of The Harris Law Firm who are planning their estates and legacies and assist fellow attorneys whose clients are experiencing significant financial changes due to divorce.
In her practice, Marianne strives to make estate planning understandable and comfortable for her clients, and takes pride in serving as a resource, partner, and life guide while they work to achieve their goals. She views estate planning as a journey, not a destination, and believes that while planning for an unknown future can be challenging and intimidating, it can also be rewarding to know that you have planned for contingencies, established attainable goals, and can live a life with confidence, preparedness, and peace of mind for anything that life might bring. She is a firm believer that estate planning is more than just end-of-life decision-making and is passionate about developing this practice area to include all generations – especially Millennials.
Marianne grew up in an Air Force family and traveled around the U.S. before spending most of her formative years in McLean, Virginia while her father worked at the Pentagon. When not helping her clients plan for their futures, she enjoys playing UTSA tennis, yoga, riding her e-bike, and spending time with her family and three spoiled dogs.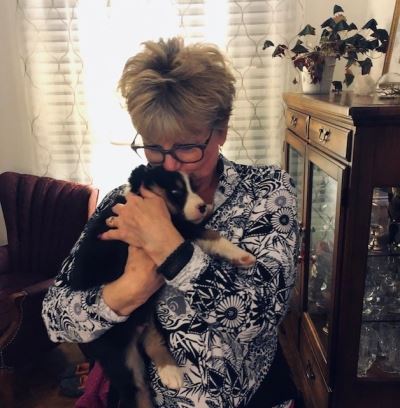 Marianne is a dog lover and excited to add her fourth puppy to the family.
Colorado, 1992
Oklahoma, 1985
Colorado Bar Association

Member, Trusts and Estates Section, Elder Law Section

El Paso County Bar Association
Association of Charitable Gift Planners
Association of Charitable Gift Annuities
Colorado Planned Giving Roundtable

Former Board Member, Summer Symposium Co-Chair

Leukemia and Lymphoma Society

Former Board Member, Rocky Mountain Chapter

Southern Colorado Chapter of Women Business Owners

Former Board Member and Founding Member
University of Oklahoma College of Law, J.D.
University of Oklahoma, B.A. in Psychology
Colorado Technical University, Project Management Certificate
Faculty Member, Academic Impressions – Gift Planning Conferences
Presenter, Colorado Planned Giving Roundtable Summer Symposium
Author, CBA Senior Law Handbook
Multi-year Participant and Sponsor of Senior Law Day
El Paso County Bar Association, Justice Center