Patrick Stordahl
Attorney and Counselor at Law
Patrick Stordahl is an Attorney at The Harris Law Firm who represents clients across Colorado in a range of family law cases, including divorce, child custody, and post-decree modifications.
Drawn to the legal profession because it allows him to help people when they need help most, Patrick enjoys serving as an intermediary between his clients and an often confusing and inaccessible judicial system. He is patient and proactive and encourages clients to actively participate in the legal process by providing the resources and support they need to make informed decisions.
A Minnesota native, Patrick studied History and Political Science at Concordia College in Moorhead, Minnesota before moving on to the University of St. Thomas in Minneapolis, where he earned his Juris Doctorate.
During both undergrad and law school, Patrick made it a priority to give back to his community, serving as a weekly volunteer at a local elementary school helping students with their homework during an after-school program. In law school, he participated in his school's Consumer Bankruptcy Clinic, where he assisted clients with pressing financial issues, including those which impacted families. In one notable case, he helped a single father obtain thousands of dollars in debt relief through Chapter 7 bankruptcy, allowing him to take advantage of a financial fresh start and better provide for his family.
Patrick's volunteer work helping children and parents eventually led him to family law, a practice that allows him to help clients find ways out of crises and conflict. Driven by a passion for his work, he strives save his clients time, anxiety, expense, and frustration by resolving cases out of court whenever possible and approaching difficult issues with a calm and comforting demeanor. In 2022, he was selected to U.S. News – Best Lawyers "Ones to Watch" list, which recognizes top up-and-coming attorneys.
In his spare time, Patrick enjoys playing and watching sports (particularly golf and hockey) and being outdoors in the beautiful Colorado mountains. He also enjoys traveling and spent a summer studying abroad in Budapest in law school.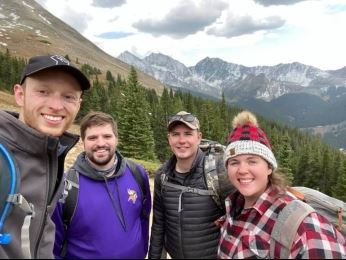 Best Lawyers: "Ones to Watch" 2022
Minnesota
Colorado Federal District Court
Colorado State Court
Colorado Bar Association
Colorado Bar Association - Family Law Division
Arapahoe County Bar Association
Minnesota Bar Association
American Bar Association
University of St. Thomas, J.D.
Concordia College, B.A. in History and Political Science
Denver Legal Night, Volunteer