Whitney W. Wolfe
Attorney and Counselor at Law
Family legal issues can be emotionally challenging and stressful, which is why each attorney at our firm is dedicated to providing our clients with steadfast legal support. Attorney Whitney W. Wolfe is particularly attentive to the care of her clients and she understands that each family and individual requires individual attention and a tailored legal approach.
Whitney's first exposure to family law occurred during law school, where she participated in a clerkship in the State of Tennessee Chancery Court. Now, she is dedicated to connecting with each and every family law client on a personal level. Attorney Whitney Wolfe understands that each family's values and priorities are different, which is why she works hard to ensure that their legal resolutions are as well.
Although Whitney has ample experience with family law, she also has other valuable legal experience that better enables her to help her family clients. Attorney Whitney Wolfe first worked in civil and criminal litigation before practicing family law exclusively, which helped her learn to approach each case with a creative, effective solution. Her background in economics and finance has also been indispensable to her family law work, especially when dealing with high-asset divorce and other cases where the marital estate is particularly complex. Because of her special skills with financial matters, these types of cases are often Whitney's favorite types of legal challenges.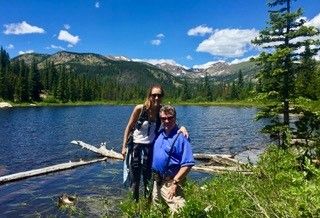 In this photo, Whitney is on a hike with her Dad at Lost Lake in Nederland, Colorado.
Best Lawyers "Ones To Watch" 2022
Denver Bar Association
Arapahoe County Bar Association
Colorado Bar Association
Denver Bar Association
Arapahoe County Bar Association
Colorado Bar Association
Colorado Lawyers Committee – Legal Night Team
Junior League of Denver – Fundraising Counsel, Partner Projects Step-Up Chair
University of Mississippi
College of Charleston Honors College

Bachelor's Degree in Economics
DU Sturm College of Law STLA Judge
Colorado Lawyers Committee, Denver Legal Nights Volunteer