The Harris Law Firm Attorneys Rich Harris and Jennie Wray Return to Haiti on Behalf of Road to Hope
This past weekend, The Harris Law Firm founder Rich Harris and firm partner Jennie Wray were down in Haiti on behalf of the Road to Hope to deliver instruments and visit the Nordette School, located north of the capitol of Port-au-Prince in a remote part of the Artibonite Valley.
While they were down in Haiti, The Harris Law Firm was gifted with a new "Haiti Metal Art" Harris Law Firm sign, made out of old steel drums used for transporting products like oil. You can learn more about these works of art here.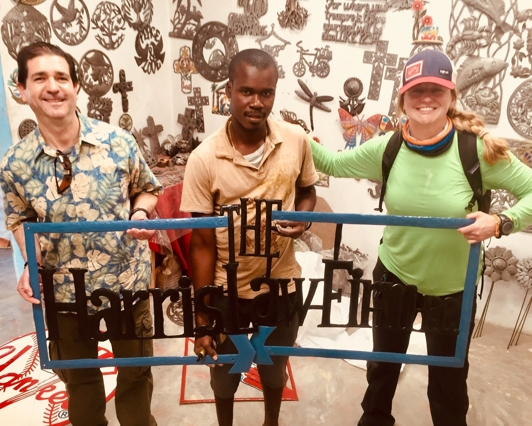 The Harris Law Firm's new Haiti Metal Art sign. You can see the rest of our photos from the trip in our photo gallery here.
Rich and his wife Lisa founded the Road to Hope almost a decade ago after visiting Port-au-Prince in July of 2009. According to the organization's website,
"[T]hey were struck by the magnitude of the needs of the people of Haiti, especially the children. They immediately immersed themselves in the history, culture, and poverty of Haiti. They began to meet other Americans and Haitians who were already doing wonderful work in Haiti and decided to build an organization that would team with, support and grow with leaders of communities. Rich and Lisa strongly believe that this is a pivotal moment in the history of Haiti - one of promise and hope and, that by teaming together with others, we can truly make a difference in our neighbor just south of Miami."
The Road to Hope strives to help build and support self-sustaining communities both in Haiti and in the United States. We have partnered with several different organizations in both countries, and our work covers a wide range of areas, including sustainable agriculture, education, music and the arts, clean water, health care, and more.
You can learn more about our organization here. Our entire staff at The Harris Law Firm is committed to supporting those in need, in the courtroom, in the greater Denver Metro area, and throughout the world. If you are in need of an experienced and passionate Colorado family law lawyer, call us at (303) 622-5502 to discuss your situation with a member of our firm today, or fill out our online form to let us know the details of your case.
Related Posts:
Posted By
The Harris Law Firm P.C.
Categories:
Contact Our Colorado
Family Law Firm
If you are in need of a compassionate, skilled, and experienced Colorado family law attorney, The Harris Law Firm can help. If you have a legal question about a domestic relations issue, including divorce and the allocation of parental rights, please complete our contact form below. A member of our legal team will be in touch with you soon to arrange a private consultation with one of our experienced attorneys. Together we can find a resolution.