The Harris Law Firm Teams Up With Bags of Fun
Heidi Culbertson from The Harris Law Firm teamed with the Bags of Fun staff members and a team of volunteers from Northwestern Mutual last week to fill and deliver personalized backpacks with toys and games for the kids at Children's Hospital. The children and their families were delighted with the organization's thoughtfulness when choosing the contents of the bag, and they were all eager to play.
What's in a Bag?
Bags of Fun are filled with educational, interactive and silly toys that give a child joy, laughter and relief from the stress and anxiety of their treatments. Bags are carefully crafted for each child, taking into consideration the best means to lift their spirits and harness the power of play. Bags of Fun says: "If we give kids the tools to play when they feel at their worst, play will reduce their stress, increase their will and build the confidence they need to fight."
Bags of Fun is a charitable organization that was initiated in Denver, Colorado and has also open several new locations in other states.
You can learn more about the Bags of Fun project and the Gabby Krause Foundation by visiting their website here.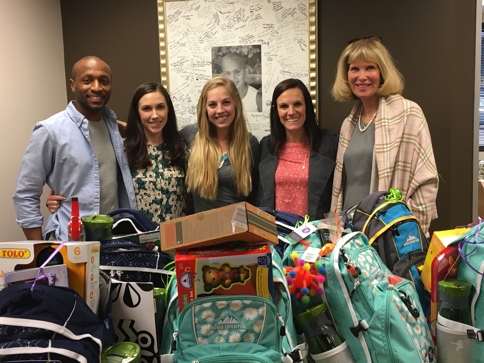 Heidi Culbertson (far right) stands with Northwestern Mutual Recruiters behind some of the Bags of Fun.
The Harris Law Firm is grateful for the volunteer opportunities that allow us to support our local community and the organizations that thrive within it. For more information about The Harris Law Firm and the legal assistance we provide to those with Colorado family law matters, please feel free to contact us by calling us at (303) 622-5502.
Related Posts:
Posted By
The Harris Law Firm P.C.
Categories:
Contact Our Colorado
Family Law Firm
If you are in need of a compassionate, skilled, and experienced Colorado family law attorney, The Harris Law Firm can help. If you have a legal question about a domestic relations issue, including divorce and the allocation of parental rights, please complete our contact form below. A member of our legal team will be in touch with you soon to arrange a private consultation with one of our experienced attorneys. Together we can find a resolution.