Benjamin Mueller
Attorney and Counselor at Law
Ben Mueller is an attorney who works out of The Harris Law Firm's Denver office. He handles cases ranging from divorce, probate, estate planning and child custody to high-net worth asset division, abductions, restrictions protection orders, and other complex issues.
Ben has a deep understanding that clients dealing with family legal matters want an attorney who understands them, effectively identifies their goals, and clearly advises them of their options, someone who will act in their best interest and strongly advocate for their position. Ben Mueller brings these qualities to every client he represents.
Ben was born and raised in Lincoln, Nebraska. He attended the University of Nebraska, where he majored in Economics, and spent time in the world of banking and finance following graduation. His passion for helping people as a trusted expert and adviser led him to Sturm College of Law at the University of Denver, where he obtained his Juris Doctor.
Prior to joining The Harris Law Firm, Ben spent time with several Colorado firms handling matters of criminal law, family law, and litigation. He has litigated hundreds of trials and contested hearings and has experience in counties across Colorado.
In his work with our firm, Ben takes the time to listen to clients and identify their needs and goals. He then sets expectations with clients and opposing counsel, and promotes amicable, collaborative resolutions when possible. When opposing parties and counsel take positions that don't meet his clients' needs, he is willing and able to litigate important issues. In every matter, Ben remains vigilant of his clients' safety and the safety of children, taking out protection orders and restrictions of parenting time where merited. He holds opposing counsels and opposing parties accountable for the agreements that are reached between parties and the Orders that are entered by the Court.
Ben's experience as a trial attorney, background in finance, and breadth of knowledge in Colorado family law allow him to handle a range of challenging cases. In addition to being trusted by families across the Denver area, he is also respected by opposing counsel, Judges, Magistrates, and their clerks. In recognition of his efforts, he has been named to the Colorado Super Lawyers list of Rising Stars.
Ben grew up in Lincoln, Nebraska and fell in love with Colorado's great outdoors after moving to the state. He enjoys skiing, fly fishing, spending time with his wife and dog, and cheering on the Huskers.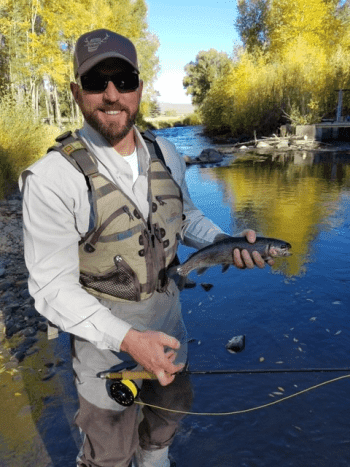 Ben enjoying his weekend fly fishing at a local river.
Super Lawyers Rising Stars, 2021
Colorado Bar
Colorado Supreme Court
United States District Court 10th District (Colorado)
J.D., University of Denver Sturm College of Law
B.A., University of Nebraska at Lincoln, Major: Economics
Chamber of Commerce - Public Affairs Committee
Colorado Collaborative Divorce Professionals
Lions Club