Dawn R. Gould
Attorney and Counselor at Law
Dawn R. Gould is an Attorney and Counselor at Law at The Harris Law Firm, where she draws from extensive experience as a former child support prosecutor and private family law practitioner to counsel clients in a diverse range of divorce, custody, domestic violence, and family law matters.
Dawn's career in law began with her initial interest in law enforcement. After earning her bachelor's degree from the University of Maryland, College Park, she took the police exam, polygraph, and passed all interviews, but was convinced by her parents to go to law school. She attended Hamline University School of Law, earning her Juris Doctor in 1999, and was hired as a Legislative Analyst helping draft criminal laws for the State of Maryland shortly after.
Dawn was first admitted to practice law in Maryland and spent the bulk of her career with the Frederick County State's Attorney's Child Support Division. As an Assistant State's Attorney, she prosecuted contempt and violation of probation cases for failure to pay child support and conducted countless trials to establish paternity and to establish, modify, and enforce child support.
Dawn later transitioned into private practice, where she expanded her legal proficiency to include divorce, custody, domestic violence, and prenuptial agreements, and became licensed in Colorado after moving to be closer to her family.
Now with The Harris Law Firm, Dawn brings a wealth of experience to her clients' cases, as well as a sense of calm and confidence that helps produce meaningful solutions. Knowing that people with emotionally charged cases often jump from one issue to another without truly resolving them, she takes care to approach each case one step and one issue at a time. She believes not in being a "jack of all trades, master of none," but instead mastering each issue one at a time.
Dawn's attention to detail, trial and cross-examination experience, and depth of knowledge in family law have earned her the respect of her clients and acclaim from her peers. In 2022, she was selected to Best Lawyers: Ones to Watch list, a legal ranking publication that recognizes the nation's most accomplished attorneys. She is licensed to practice in Colorado, Maryland, and Washington, D.C.
Outside of the courtroom, Dawn is active in the local community. She serves as a volunteer for The All-Stars Club, an organization that offers a night of fun for individuals with special needs while giving their parents an evening of rest, Rebuild Denver, Benefits in Action, and Dress for Success. She also enjoys spending time with her family, volunteering for her church and community, golfing, fishing, cooking and "plating food."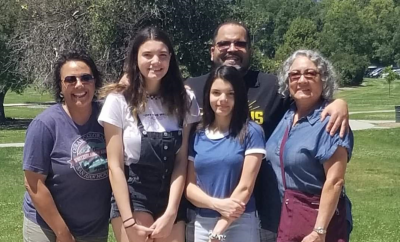 Dawn enjoying the day with her Mother, Brother & Nieces.
Best Lawyers: "Ones to Watch" 2022
Maryland State Bar
District of Columbia
Colorado
Maryland State Bar Association
District of Columbia Bar Association
Colorado State Bar Association
Previous member of Frederick County Bar Association, Family Law Section
Previous member of the Maryland Chamber of Commerce
Previous member of Frederick County Chamber of Commerce
Previous member of Women's Business Network
Previous member of Board of Trustee for the Delaplaine Arts Center
Hamline University, School of Law, J.D. 1999
University of Maryland, College Park, B.A. 1995
"Getting Divorced, Now What?" - 2019
Rebuild Denver, Volunteer
Benefits in Action, Volunteer
Dress for Success, Mentor
The All-Stars Club, Volunteer
Maryland Volunteer Lawyer Service
Habitat for Humanity
Frederick County Rescue Mission and Soup Kitchen