Erika Carter
Attorney and Counselor at Law
Erika handles a wide range of divorce, child custody, and other family law matters that require compassionate and experienced guidance as an attorney. As a recipient of the Colorado Office of Respondent Parent Counsel's Family Defender of the Year award, Erika is known for her zealous advocacy for parents.
Erika's aim with every client is to defuse high-conflict situations by developing the strongest solutions while protecting the rights of her clients. Erika aims to educate her clients in order to bring clarity and understanding to any complex financial or parenting situation. Erika's work allows families the ability to achieve the best solutions, no matter how complex the circumstances.
Erika has developed a reputation for guiding her clients through high conflict situations with a calm and reasonable approach with the goal of negotiating an advantageous settlement wherever possible, but she is also an accomplished litigator who vigorously defends her client's interests in court.
Erika has extensive experience litigating dependency and neglect cases. She began her career as an attorney at the Denver County Department of Human Services and went on the represent the Douglas County Department of Human Services and Elbert County Department of Human Services in dependency and neglect matters and juvenile delinquency cases. Through this experience, she is able to help clients navigate the complex child welfare system while protecting their rights.
Erika received her Juris Doctorate from the University of Denver Sturm College Law and her bachelor's degree from Loyola University Chicago.
Clients who work with Erika have the peace of mind that comes from working with an attorney who combines skill and insight with dedicated compassion and integrity.
During her free time, Erika enjoys skiing, cycling, and mountain biking.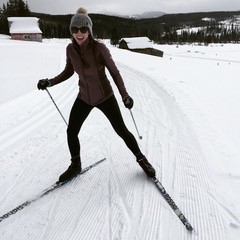 Erika cross country skiing at Devil's Thumb Ranch in Tabernash, CO
Family Defender of the Year Award 2017-2018, Colorado Office of Respondent Parent Counsel
Best Lawyers "Ones To Watch" 2022
The Blue Bench
Family Tree
Colorado Lawyers Committee Legal Night
University of Denver Sturm College of Law
Loyola University Chicago

B.A. in Journalism
Minor in Social Work