Jacob Allen
Senior Associate
Jacob Allen is a Senior Associate at The Harris Law Firm. He represents clients in a broad range of family law matters, with a special focus on cases involving high-net-worth, complex assets, and cases involving psychological and emotional issues.
Jacob's practice is shaped by his unique combination of experience, skill, and background in mental health. With previous work ranging from providing psychological counseling and assessments for children and families to litigating complex products liability actions against some of the nation's largest companies, he's equipped to handle some of our firm's most complex and contested cases.
Born and raised in Denver, Jacob earned his undergraduate degree from the University of Colorado at Boulder, where he was a member of the Phi Beta Kappa honor society. He holds a master's degree in Educational Psychology from the University of Texas at Austin, where he received specialized training in counseling and psychological assessment of children and served as an AmeriCorps volunteer and mental health counselor at Children's Hospital Colorado.
Following his work in counseling, Jacob attended the University of Denver Sturm College of Law on the Chancellor Scholarship, a full-tuition scholarship awarded to students who demonstrate academic excellence and a commitment to community service. While in law school, he clerked for both federal and state court judges, including U.S. District Court Judge R. Brooke Jackson, U.S. District Court Magistrate Judge Michael Hegarty, and Denver District Court Judge John W. Madden, IV.
In his practice, Jacob is known for his level-headed, common-sense approach to problem solving. He helps clients identify and focus on the most important matters in their cases, which helps provide a sense of calm and clarity when there are many contested issues. And while he begins each case with the hope and optimism that reasonable resolutions can be reached, his strong courtroom skills allow him to aggressively advocate for clients when the other side is unwilling to strike compromise.
During his time with The Harris Law Firm, Jacob has made an indelible difference in the lives of his clients, helping them find meaningful solutions to seemingly unsolvable problems. His efforts have earned him the trust of both colleagues and clients, who appreciable his ability to remain calm and composed amid even the most stressful circumstances, as well as recognition from leading legal organizations, including Best Lawyers "Ones to Watch" and Super Lawyers Rising Stars.
Outside of his work advocating for clients, Jacob has volunteered his time to organizations such as Big Brothers Big Sisters of America, Metro Volunteer Lawyers, and the Rose Community Foundation's Roots & Branches Foundation, and currently serves on the Associates Advisory Board for the Legal Aid Foundation. He is also an avid runner.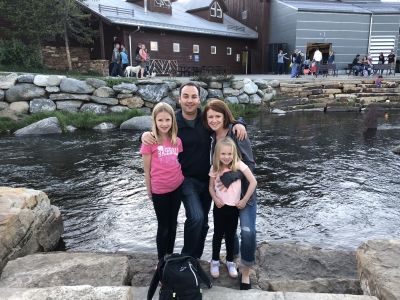 Jacob and his family enjoying time in Breckenridge.
Best Lawyers "Ones To Watch" 2022
Super Lawyer's Rising Stars 2022
State of Colorado
United States District Court for the District of Colorado
Arapahoe County Bar Association
Colorado Bar Association

Member, Family Law Section

Denver Bar Association
Metro Denver Interdisciplinary Committee
J.D., University of Denver Sturm College of Law

Chancellor Scholarship: Full tuition scholarship based on demonstrated academic excellence and commitment to public service
Scholastic Excellence Award for Highest Grade: Evidence

M.A., University of Texas at Austin, Educational Psychology
B.A., University of Colorado at Boulder, Political Science

Phi Beta Kappa Honor Society
Presentations
A Day in the Life of a Law Firm Associate, University of Denver Sturm College of Law
Metro Volunteer Lawyers
Big Brothers Big Sisters of America
Rose Community Foundation, Roots & Branches Foundation
Legal Aid Foundation, Associates Advisory Board