Peter B. Goldstein
Partner
​Peter Goldstein has been a licensed attorney in Colorado since 1983 and is a member of both State and Federal Bars. He is AV rated by Martindale-Hubbell (the highest rating available) and is currently the CBA Chair of the CBA/DBA Professionalism Coordinating Council, a group of lawyers and judges dedicated to enhancing professionalism in the practice of law.
Peter has been appointed to the Committee on Conduct which investigates complaints, applications for reinstatement and other matters involving attorneys conduct in the U.S. District Court for the District of Colorado. Peter served as Chairman of the Legal Fee Arbitration Committee of the Colorado Bar Association and has been a member of the CBA Ethics Committee.
In the course of his career, Peter has also been a COO of a 43-attorney law firm; a founder and managing partner of his own law firm specializing in business law and litigation; a management consultant in the healthcare consulting practice of Ernst & Young; and a subject matter specialist and consultant on HIPAA to healthcare providers and health insurance companies. Additionally, he was the CEO and general counsel of a healthcare company in Denver, Colorado.
Peter received his B.A. in psychology from Williams College, his J.D. from Hofstra University School of Law, and his M.B.A. from Daniels College of Business at the University of Denver. He began working as Special Counsel with The Harris Law Firm in January of 2017.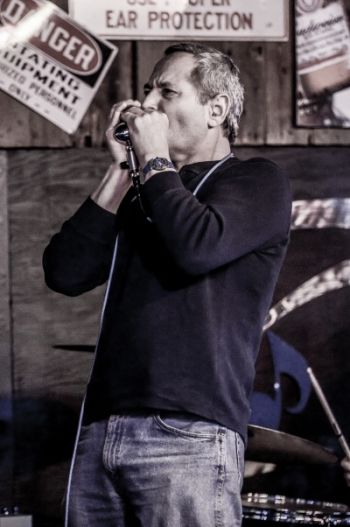 In this photo Peter is playing the blues harmonica with the Bluedogs at Ziggies
Bar Leadership
Peter Goldstein has been appointed to the Committee on Conduct by the U.S. District Court Judges for the District of Colorado and will begin his 3 year term on October 1, 2017.
Current CBA Chairman, CBA/DBA Professionalism Coordinating Counsel
Member, Chief Justice's Commission on Professional Development
Member, Colorado Supreme Court, Hearing Board
Colorado Bar Fellow
Past Chair, CBA Legal Fee Arbitration Committee
Past Member, CBA Ethics Committee
Past Member, Arbitrator, American Arbitration Association
Reported Cases
ICG Denver, LLC v. Samantha Mueting, 13CA2102 (Colo.App.Div. 1, 2014) (Unpublished)
Castle Rock Bank v. Team Transit, LLC, 292 P.3d 1077, 2012 COA 125 (Colo.App.Div. 5, 2012)
LeFebvre v. Winter Meadows Ass'n, Ltd., 59 F.3d 178 (10th Cir. 1995) (Unpublished)
Colorado Super Lawyers 2022
AV Rating by Martindale Hubbell for 2017
Voted to Top Lawyers by Peer Review for 2017
Certificate of Recognition from the Colorado Legislature for contribution to the community
Honors
Articles Editor, International Property Investment Journal
Clerk for The Hon. David Francis Jordan, U.S. Magistrate, U.S. District Court for the Eastern District of New York.

Williams College, B.A., Psychology
National Merit Scholarship Finalist
Colorado Supreme Court
U.S. District Court for the District of Colorado and 10th Circuit Court of Appeals
Board Member and Program Director, Colorado Health Information and Management Systems Society
Member, American Radio Emergency Service (ARES), Call Sign: KG0WN, General Class Ham Radio License
Black Belt, Taekwon Do
Daniels College of Business, University of Denver, Executive MBA
Hofstra University School of Law, Juris Doctor
Publications:
Lawyers' Liability for Attorney's Fees Awarded Against Clients, (12 Colo. Law. 1638, October 1983), Vol. 12, No. 10, Pg. 1638
An Introduction to the CBA Ethics Committee. (9 Colo. Law. 21, January 1992)
Co-Author, Journal of Academic Medical Institutions
Co-Author of the WEDI/SNIP Privacy Policies and Procedure White Paper and articles in numerous professional publications
"What Happens if I Win a Judgment in a Colorado Family Law Matter and I Don't Get Paid?"- Denver Business Journal Article
Presentations:
Presenter at conferences of, or provided training to:
Blue Cross Blue Shield Association Ethics and Compliance Conference
National Association of State Budget Officers (NASBO) Annual Conference
Insurance and Accounting Systems Association (IASA),
Yale-New Haven Health Systems
Kansas City Medical Center
Jewish Hospital and Healthcare Services
National Plan Automation Group Annual Conference
Wellpoint
Blue Cross Blue Shield of Nebraska
University of Chicago Medical School
University of Colorado Medical School
Colorado Women's Bar Association Conference, CLE Marketing Presentation
Channel 7 Everyday Hero Award Recipient
Co-Founder and Co-Chairman of A Group of Friends, a charitable organization
Board Member, Douglas/Elbert County Taskforce