Happy Earth Day from The Harris Law Firm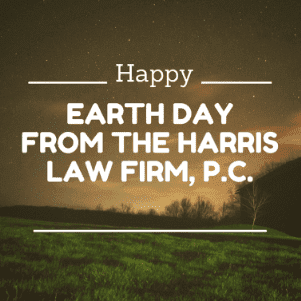 The Harris Law Firm would like to wish you and your family a Happy Earth Day! In our unbiased opinions, Colorado is one of the most beautiful states in the nation. We take pride in our world and strive to make it better. We believe that this can be the perfect time for you and your children to spend some quality time together and learn about the Earth.
Denver offers some great ways to get involved with nature. We can all do our part to keep Colorado looking beautiful. The sun is shining and the weather is finally warming up. What better time to step outside? To help you find something to do, here are some suggestions.
Fun Earth Day Events for the Whole Family
Earth Day Denver
When: Friday, April 22 from 10 a.m. to 2 p.m.
Where: Union Station
What: Earth Day Denver is open to the public. It's a way for the citizens of Colorado to get together and engage in both their community and the Earth. Stop by and learn about sustainability and green living.
National Park Week
When: From April 16 -24, all day
Where: A national park near you!
What: Join in America's largest celebration of natural parks. For this week, all national parks offer free admission. This is a great way to visit historic natural landmarks, learn about this country's natural heritage, and explore the great outdoors. This will be fun for all ages.
Earth Day Project
When: Saturday, April 23 from 8 a.m. to noon.
Where: Bear Creek Lake Park. 15600 W. Morrison Rd., Lakewood, CO. 80465.
What: You can join fellow Colorado citizens learn about nature by getting involved in projects throughout the park.
Children's Peace Garden – Bee Earth Day Celebration
When: Saturday, April 23 from 10 a.m. to 2 p.m.
Where: Children's Peace Garden at 1630 Hawthorn in Boulder.
What: Learn about fresh food, local honeybees, and healthy bodies. There will be demonstrations, interactive activities, and diverse garden mazes. It's sure to be a great, educational day!
2016 CH2M Spring RiverSweep
When: Saturday, April 30th
Where: City of Cuernavaca Park
What: Join the SPREE team to clean the river. Groups will work on projects along the river. Not only will you have fun, you will benefit the Earth and the Community.
We hope you have fun celebrating with your families! Enjoy the open skies, green parks, and doing good!
Posted By
The Harris Law Firm
Categories:
Contact Our Colorado
Family Law Firm
If you are in need of a compassionate, skilled, and experienced Colorado family law attorney, The Harris Law Firm can help. If you have a legal question about a domestic relations issue, including divorce and the allocation of parental rights, please complete our contact form below. A member of our legal team will be in touch with you soon to arrange a private consultation with one of our experienced attorneys. Together we can find a resolution.