The Harris Family Turns Good Deeds into a Lifestyle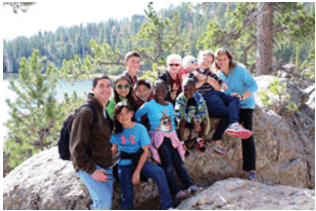 Roughly 92% of Colorado residents believe themselves good Samaritans who support charitable causes. Statistics show that 65% of Coloradans gave their time and money to charitable organizations that provide individuals with necessities. However, for one Colorado family, simply giving money was not enough. The Harris family's Richard Harris and his wife Lisa wanted to do more.
When the destructive earthquake hit Haiti in 2010, the Harris family were beside themselves. They were in the process of adopting two children, Davinson and Guiimara, from the country. After the quake, the couple spent countless hours trying to reach the orphanage to ascertain the well-being of their children. After leveraging a connection with Governor Bill Ritter, Rich Harris was able to arrange passage for his two kids and 30 other adoptees to the United States.
The Harris family is no stranger to adoption. Rich and Lisa have two biological children, as well as seven adopted from Haiti and China. Their passion for the well-being of children everywhere drove the couple to do more. Together, they started a charity called "The Road to Hope." Their organization strives to help the children of Haiti thrive and prosper. What started out as a cause focusing centrally on aiding orphanages, quickly expanded to include education and providing tools for a community to sustain itself.
The Harris family periodically visits Haiti to check on the different projects. Their big heart turned a small deed into a lifestyle. Richard Harris brings his passion for helping children to his law firm. At The Harris Law Firm, we put children and their families first. That is why we strive to help individuals in all of their family law matters. If you are going through a divorce or need help in custody or support cases, contact our Colorado divorce lawyers today.
Posted By
The Harris Law Firm
Categories:
Contact Our Colorado
Family Law Firm
If you are in need of a compassionate, skilled, and experienced Colorado family law attorney, The Harris Law Firm can help. If you have a legal question about a domestic relations issue, including divorce and the allocation of parental rights, please complete our contact form below. A member of our legal team will be in touch with you soon to arrange a private consultation with one of our experienced attorneys. Together we can find a resolution.