Dianne Van Voorhees and Peggy Walker Receive 2017 Pro Award for The Harris Law Firm
Harris Law Firm attorneys Dianne Van Voorhees and Peggy Walker were honored to accept the 2017 Pro Award on behalf of the firm for their volunteer efforts at the Pro Bono Recognition Ceremony on April 13th at the Colorado Supreme Court Pro Bono Recognition Ceremony.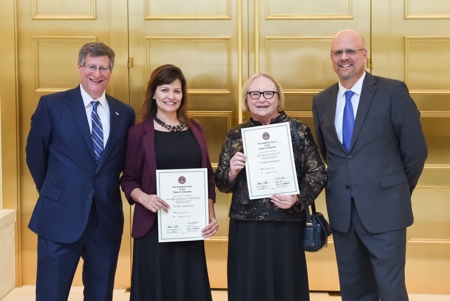 From left to right: Colorado Supreme Court Justice Richard L. Gabriel, attorney Dianne Van Voorhees, attorney Peggy Walker and Colorado Supreme Court Justice William W. Hood III.
Every year, law firms that have performed at least 50 hours of pro bono legal services are recognized by the Colorado Supreme Court. At The Harris Law Firm, we remain committed to giving back to our community whenever possible, both in the courtroom and out.
For nearly a quarter of a century, our firm has provided experienced and passionate legal representation to families and individuals in their time of need, and will continue to do so for as long as our services are required. We are proud to receive recognition from the highest court in the entire state, and will continue to work hard to honor that recognition. If you require the assistance of a knowledgeable Colorado family law attorney, call us at (303) 622-5502.
Related Posts:
Posted By
The Harris Law Firm P.C.
Categories:
Contact Our Colorado
Family Law Firm
If you are in need of a compassionate, skilled, and experienced Colorado family law attorney, The Harris Law Firm can help. If you have a legal question about a domestic relations issue, including divorce and the allocation of parental rights, please complete our contact form below. A member of our legal team will be in touch with you soon to arrange a private consultation with one of our experienced attorneys. Together we can find a resolution.