Members of The Harris Law Firm Participate In 9th Annual Sean May Memorial Run/Walk
Dianne Van Voorhees, Jenny Kang, and Heidi Culbertson of The Harris Law Firm participated in the 9th Annual Sean May Memorial Run/Walk on Saturday, May 13.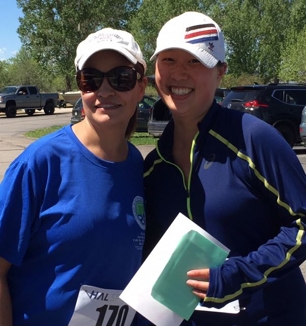 Dianne (left) and Jenny.
According to the event's website,
The Access to Justice Committee of the 17th Judicial District (17th JD) and the Colorado Bar Association sponsored the 9th Annual Sean May Memorial Run/Walk (SMMRW) at beautiful Barr Lake State Park to benefit programs of the 17th JD Access to Justice Committee and the Sean May Memorial Fund.
Participants chose from a 9-mile run, a 5-kilometer walk/run, and Kids Fun Run. The beautiful trail course passed by the park's wildlife viewing stations and wildlife refuge where participants had the chance to spot over 350 species of birds, including several bald eagles.
The run/walk event for Sean May, a prosecutor for the Adams County District Attorney Office was created his honor. May, who was only 37 years old, was gunned down at his home in 2008. May was a strong proponent of acting responsibly in all aspects of life, including treating the courts, defendants, the community and victims with respect and dignity.
Sean May was a talented prosecutor who was responsible for the supervision and training of new deputy district attorneys. He was a loving husband, friend, and was awaiting the birth of his first child.
The memorial race is a way to honor Sean May, the May family, and our legal community.
Related Posts: