17th JD Access to Justice Committee Honors Dedicated Runner
May 13, 2017 marks the ninth year that we have held the Sean May Memorial Run. In the past nine years, we have had many runners, volunteers, walkers, donors, and sponsors participate in this event, but only one has run in the 9-mile race every single year for the past eight years. And, he's running it again this year to make it nine for nine!
You may know that Judge Randy Davis is the Broomfield Municipal Judge and a relief judge in several cities and that he serves as a magistrate in Weld County. But did you know that he has attended over 30 years of municipal judge conferences?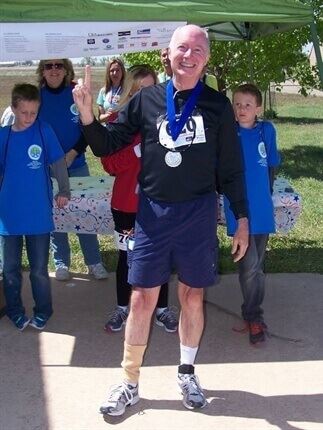 Who is this Ironman? It's none other than the Honorable Judge Randy Davis.
When I asked Commerce City Municipal Judge David Juarez about Judge Davis, he was quick to volunteer that their friendship goes back a long way. Randy Davis and Dick Borchers hired him as a law clerk back when Juarez was a law student at the University of Colorado. They ended up sharing offices after Juarez graduated.
"Randy and I office shared until he became a District Court Magistrate in Adams County," he said. "During that same time, he was the prosecutor in Wheat Ridge then became the Judge in Wheat Ridge. He left being a magistrate in Adams County then became the first County Court Judge for the City and County of Broomfield." Judge Juarez has a great deal of admiration and respect for Judge Davis. In describing him he said, "When he commits to something he stays committed. I am proud to call him my friend and mentor."
Apart from his stellar legal career, Judge Davis has an outstanding athletic portfolio. He has climbed many Colorado peaks including 14ers. He has done triathlons and Ride the Rockies. He has traveled to many foreign countries for scuba diving and biking.
Judge Davis does not fool around when it comes to his running routine.
When I asked Judge Davis to remind me about his running regimen and his history with the Sean May Memorial Run and the Adams Bar Barrfly races, he did not know I was going to be bragging about him. He never misses a weekly run. In fact, he has been running once a week for 5-10 miles every week for the past 32 years and four months. He is serious about running in the Bolder Boulder every year, and he ran the 9.3-mile route in every one of the Adams Bar BarrFly races from 1989 to 1997.
In closing, he wrote, "So yes, I am obsessive-compulsive about some things in life (I should be so dedicated to eating better and drinking less)."
Well, Judge Davis, that's pretty darn cool. So thank you for your enthusiasm, your example, your service to our community, and always running toward life!
To register for the race visit SeanMayMemorialRun.org
The race is planned and coordinated by the 17th JD Access to Justice Committee. The race is timed by Hallucination Sports.
Related Posts:
Posted By
Dianne A. Van Voorhees
Categories:
Contact Our Colorado
Family Law Firm
If you are in need of a compassionate, skilled, and experienced Colorado family law attorney, The Harris Law Firm can help. If you have a legal question about a domestic relations issue, including divorce and the allocation of parental rights, please complete our contact form below. A member of our legal team will be in touch with you soon to arrange a private consultation with one of our experienced attorneys. Together we can find a resolution.