The Harris Law Firm Celebrates 25th Year in Practice with New Owl Logo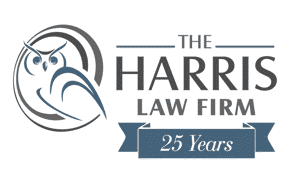 Our legal team at The Harris Law Firm is happy to announce our 25th year in practice! What's more, were marking this milestone with a new look and logo.
Our firm's logo and branding will now include the wise and distinguished owl, which we hope will soon become a recognizable mark not only for our practice and talented team of attorneys, but also the personalized, caring, and high quality representation for which we have become known.
Known for its vigilance, strength, and confidence, the owl has come to represent many of the same qualities we strive to provide our clients in difficult matters involving divorce and family law, as well as the characteristics which set our representation apart from the rest. This includes wisdom, patience, and the ability to see and scan all that's around in order to make calculated and careful decisions – even in the most challenging of times.
Since our firm was founded in 1993, we've earned a reputation as Colorado's leading family law firm, and have helped more than 8,000 clients across the state! As we celebrate the achievements we've made thus far, we remain as committed as ever to helping clients now and for the next 25 years to come. You can learn more about The Harris Law Firm difference, our legal team, and our practice areas on our website.
Wisdom, New Beginnings, and Peace of Mind!
If you are facing any divorce or family law matter in Colorado, The Harris Law Firm is ready to guide you through your life changes with the strength, wisdom, and intuitive representation you deserve. Feel confident in your strength and your ability to make your way, and trust in our team of experienced and compassionate attorneys to help you get there.
Let The Harris Law Firm guide you through your next chapter. Call (303) 622-5502 or contact us online to speak with an attorney.
Read more in our Press Release.
Posted By
The Harris Law Firm P.C.
Categories:
Contact Our Colorado
Family Law Firm
If you are in need of a compassionate, skilled, and experienced Colorado family law attorney, The Harris Law Firm can help. If you have a legal question about a domestic relations issue, including divorce and the allocation of parental rights, please complete our contact form below. A member of our legal team will be in touch with you soon to arrange a private consultation with one of our experienced attorneys. Together we can find a resolution.