Toby's Pet Parade Brings Joy to the Community
The attorneys and legal professionals from The Harris Law Firm's Evergreen office continued their support of the Foothills Animal Shelter by participating in Toby's Pet Parade last Saturday, September 17th. Participants included pet owners and pets from the Evergreen community, and some of the parading animals were adopted from Foothills Animal Shelter (FAS). The event was held at the Jefferson County Fairgrounds, and Jennie Wray, the firm's managing partner of the Evergreen office along with attorney Carrie Eckstein and paralegal Maureen McAllister offered their support.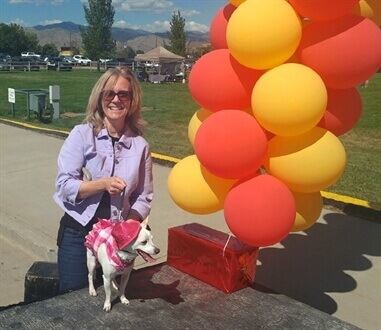 Maureen, pictured above, even dressed her dog Opal in her pink cowgirl outfit so they could participate in the parade together. The event was emceed by Tawnya Rush, producer and guest host for 9News Colorado & Company, and she announced the winner… a dog with a yellow hair piece and business suit dressed as Republican presidential candidate Donald Trump.
The proceeds from Toby's Pet Parade will help to support the Foothills Animal Shelter, a non-profit organization whose mission is to provide care and shelter for the Evergreen community's orphaned and homeless animals. The Foothills Animal Shelter will take care of any animal who is brought to their facility, and their team cares for almost 10,000 orphaned dogs and cats every year. The shelter also offers a variety of services including spaying and neutering, microchipping, pet licensing, vaccinations, x-rays, and pet adoptions. The much needed addition of their new medical suite also allows them to provide more on-site and cost-effective care and has increased the number of procedures that they perform each year.
Founded in 1976, the organization is located at 580 McIntyre at the Jefferson County Fairgrounds. - See more about FAS at: http://foothillsanimalshelter.org/about/about-foothills-animal-shelter/#sthash.GQhfUYCS.dpuf
Related Posts:
Posted By
The Harris Law Firm P.C.
Categories:
Contact Our Colorado
Family Law Firm
If you are in need of a compassionate, skilled, and experienced Colorado family law attorney, The Harris Law Firm can help. If you have a legal question about a domestic relations issue, including divorce and the allocation of parental rights, please complete our contact form below. A member of our legal team will be in touch with you soon to arrange a private consultation with one of our experienced attorneys. Together we can find a resolution.